AVID Reference Three Loudspeaker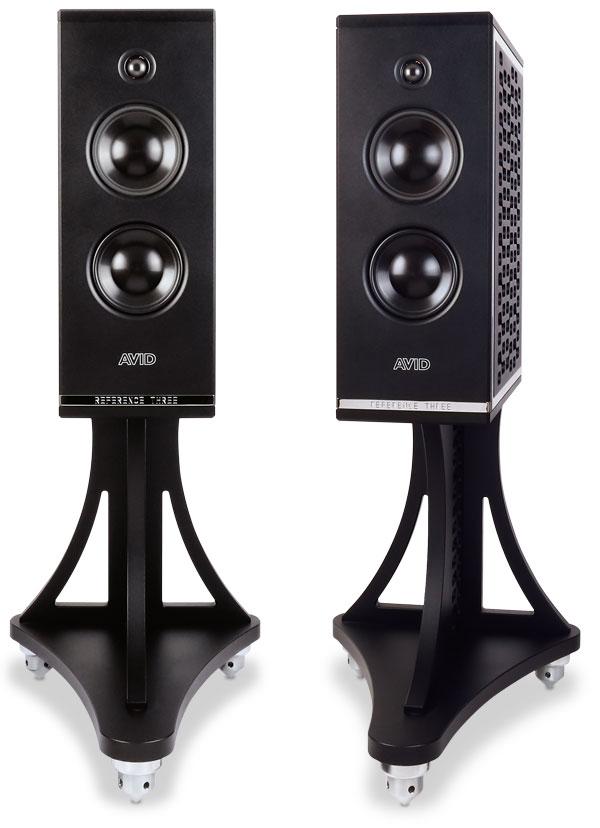 The largest standmount in AVID's all-alloy Reference range is bigger and heavier than most floorstanders...
Standmount speakers – it's easy to see why they're popular. They're relatively compact and light enough to position with ease, whether on bookshelves or stands. They aim to offer a compelling sound in smaller spaces, are affordable, often due to mass-production overseas, and can be driven with ease by relatively modest amplification. Trouble is, the AVID Reference Three, while undeniably a standmount speaker, flies in the face of all the above.
To cover off some of the practicalities, these £60k-a-pair speakers are tall at 114cm on their dedicated stands, and weigh 100kg apiece with an all-up shipping weight of 150kg per speaker. They come in black as standard, with chrome trimmings and a decorative lattice on the sidewalls, but other finishes are available to order, every set built by hand in Huntingdon, Cambs. The enclosures are assembled from 'aerospace grade' aluminium plate up to 2cm thick, with no visible fixings and joints sealed with O-ring gaskets. In other words, these speakers are built like the finest of British mobile armour, except they tend to work rather better straight from the box.
Start Me Up
You'll probably want to be a little more ambitious with the amplification than you might with a pair of 'normal' bookshelf speakers – AVID suggests 40-400W as the recommended output, but I'd probably err toward the upper reaches of that range, as we did under test with a pair of hefty Constellation Inspiration Mono power amps [HFN Oct '19]. In return you'll make best use out of that claimed 88dB sensitivity and bass extension down to 35Hz, plus a design aimed to be more room-friendly than you might expect from a speaker with such output.

That's where the stand comes into play – its aluminium T-shaped frame bolted to the underside of the speaker between its two downward-venting ports. Unlike the smaller Reference Four [HFN Feb '22] – a mere 25kg tiddler – whose port fires onto the top of its integral stand above a conical diffuser, the Reference Three's dual reflex tubes are more conventional in design.
A Family Affair
The speaker is part of a four-strong range topped by the massive Reference One, a £215,000 340kg floorstander reaching 205cm in height and hosting seven drivers to deliver a bass response that's rated down to 20Hz. All four models use similar technology, just to varying degrees, and weight…
The Morel-sourced drivers, which are clamped into the baffle between aluminium compression plates, start with a 28mm silk dome tweeter that's set into a short flare to improve its off-axis response. This dome is coated with a damping material called Acuflex, to better manage any breakup modes, just as the combination of a titanium former and 'Hexatech' aluminium voice coil improve linearity and power handling.
Below is a pair of 160mm woofers with damped polymer composite cones and tuned mass damping to control distortion, AVID claiming to have 'resolved the vibration issue at source, just leaving a stunning clarity of sound', which is certainly fighting talk! Again the combination of titanium former and Hexatech winding is used in the motor assembly, which also employs a hybrid neodymium/ferrite magnet system to increase the system efficiency.
The cabinets are divided internally using angled baffles to combat standing waves while, of course, those hefty panels resist flexing and resonance. The crossover, tucked into the rear of the cabinet, uses high voltage ClarityCap capacitors and low-resistance air core inductors wound with 1.25mm self-bonding enamelled wire.