AVID Reference Four Loudspeaker Page 2
AVID's notes for positioning the speakers are fairly general. It suggests you start with them slightly closer together than they are from the listening position – some 45cm from the rear wall – pointing out that too close will boost the bass but may impact on clarity and stereo image. It also advises they are well in from side walls, then 'adjust until you are happy with the sound'. A slight toe-in is recommended – 'pointing slightly toward, but not directly at, the listening position' – as this will give the best trade-off between stereo imaging and enough spread for several listeners. It's good to see a manufacturer proposing hi-fi as a social experience!
Old Meets New
With a little jiggling, those suggestions seemed to work well for me, and after some experimentation with different amplification, I settled on my 'vintage' Naim set-up of NAC52/52PS/NAP250 [HFN Jan '14], connected to the Reference Four's substantial single-wire terminals using runs of Naim NAC A5 cable. While the speakers needed the preamp to be turned up a bit to achieve decent SPLs, this was no problem – as with all Naim amps, this combination really seems to get into its stride at higher levels, and drove the speakers with plenty in reserve to accommodate musical dynamics.
From the off, several things immediately grabbed me about the sound of the Reference Four loudspeakers. Namely, the crisply-focused, expansive soundstage 'picture' they create; the weight and control of the bass; and the speed with which they react to the music, enhancing detail and ensuring rhythms motor along without a hint of blur or overhang. Play a punchy track such as New Order's 'Blue Monday', from the Total compilation [Rhino 5052498647958], with its thumping bass line threatening to swallow all before it, and the Fours steal none of the weight while still casting an image of excellent clarity, in which every musical element is just so easy to follow.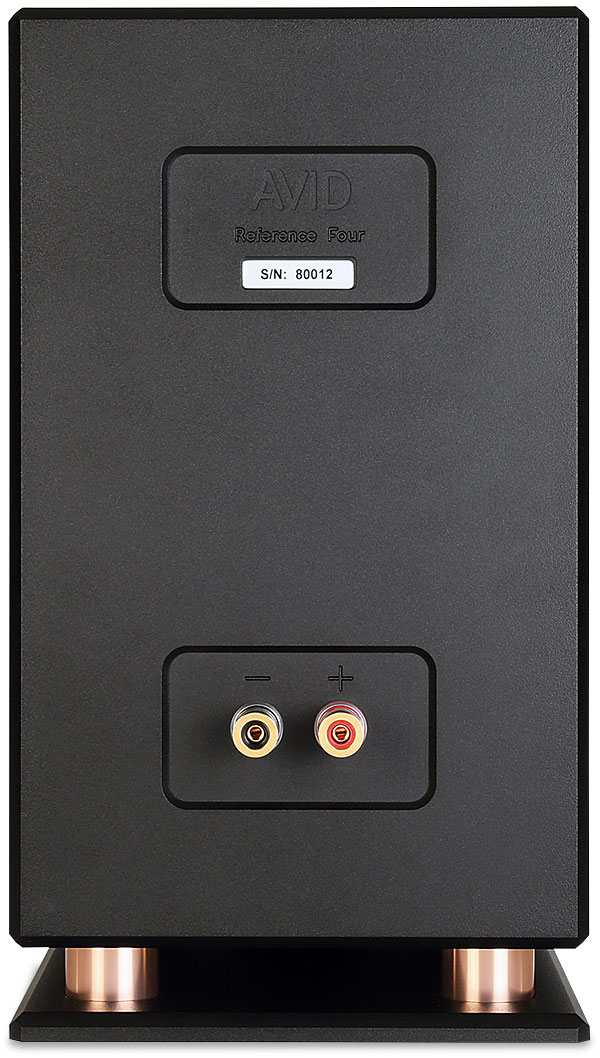 Even with the mayhem of some vintage KLF tracks, courtesy of the recent Arkive download release [The KLF; n/a cat. no.], which trawls out some early demos and unreleased mixes, there's that same combination of deft, well-extended bass and masses of information. The music simply powers out of the Fours as it really shouldn't from speakers this small. Big, thundering low frequencies, allied to plenty of detail – spot those contentious samples – what more could one want?
Authentic To The Core
However, you don't have to be crashing out electronica to appreciate what the Reference Fours can do as they're just as convincing with orchestral, chamber or jazz recordings. They delivered a well-scaled view of the 'band' on Sonoko Miriam Welde's recording of the Bruch Violin Concerto [Lawo Classic LWC 1222; DXD] while keeping the soloist naturally focused before the listener, and conjuring up an exciting sense of performance. All this and with the bite of the violinist's strings set against the palpable weight of the orchestra behind her.
Similarly with the sparse sound of baritone James Rutherford's reading of Schubert's Winterreise [BIS BIS-2410], recently released more than three years after it was recorded. Here its absolute focus on the voice and piano really grabs the listener's attention with its chilly ambience – despite being recorded in August in sunny Suffolk!
Staying with events in that county, the Fours do a fine job with the 2020 Bergen Philharmonic/Edward Gardner recording of Britten's Aldeburgh-set Peter Grimes [Chandos CHSA 5250; DSD 64]. Yes, in absolute terms I could have done with a little more bass growl and weight for that celebrated 'Storm' interlude, but for speakers so small what's on offer is still mighty impressive. In the context of an unfolding drama whose every nuance and twist is illuminated by the levels of insight these loudspeakers deliver, the loss of that last iota of room-shaking ability is a very minor concession.
In practice, those crashing, wind-tossed waves are certainly tumultuous enough considering the diminutive size of the speakers unleashing them, as is the way the Reference Fours portray the unearthly nature of the despairing conclusion to the piece. These are speakers to grab the listener and command attention, and they do that regardless of the musical genre being played.
Hi-Fi News Verdict
With their tank-like build and equally hefty price-tag, AVID's Reference Fours feel anything but an entry-level model. They reward both the considerable design and engineering effort put into them, and the heavy lifting involved in getting them set up, with a sound of remarkable power, insight and involvement. If you must have small speakers to represent a big system, then these alloy sculptures are a superb choice.