Aurender A30 Digital Music Player Page 2
USB hard drives or memory devices can be connected to two sockets on the rear, allowing playback from those devices and back-up possibilities – a wise move if one chooses to put all one's musical eggs into one spinning hard drive basket. Meanwhile the onboard streaming section can also address external network storage via its Ethernet connection, as well as allowing the A30 to play online music services.
The A30 can be operated via its front panel or the remote control, but is best navigated and operated via the company's Conductor app on iPad or Android tablet. This provides an excellent user interface, and even a choice of themes to suit the user's taste. Both Qobuz and Tidal streaming are embedded in the app, which does a good job of integrating these services with the user's own music library. The A30 also sorts out and tidies up the metadata stored with your music, not only allowing you to find it to play, but also providing information during playback.
Quick Start
Although I was slightly daunted to unbox the A30 and find only a Quick Start Guide for every model in the Aurender range except the unit I was hefting onto the rack, this player is (almost) falling-off-a-log simple to get up and running. In practice I was soon loading music onto it over my network, and exploring the comprehensive options on the Conductor app. It was able to bring together my own music library on a big QNAP NAS, Tidal and Qobuz, and its own internal music store, and playing any of them proved very straightforward.

What's more, for all of its impressive bulk, weight, and of course price, the A30 just gets on with the job of making music in an entirely unassuming fashion, and it's easy to overlook just how well it is doing things, so slickly does the music flow. It's pretty much connection-agnostic – RCA or XLR, fixed or variable, along with an exceptional-sounding headphone section – and handles all formats from ripped CDs right up to ultra-high DSD sampling rates with equal grace and directness.
You can even set it to pause slightly when switching between formats, avoiding any clicks or pops while the A30 gets its digital act together, which is as good an indication as any how well-sorted a piece of hardware this digital music player is.
Clean, detailed and precise: that's the best way to describe the A30, and while it doesn't deliver the biggest or most romantic of sonic pictures, there's much to admire in the way it handles rhythms and dynamics, and the focus of the images it creates. Play a set such as the Michael Stern/Kansas City Symphony recording of Holst's The Planets [Reference Recordings RR-146; DSD64], and the A30 is as adept powering out the massive climax of 'Mars' as it is with the ethereal voices of 'Neptune'. Yes, some audiophiles may require a little more warmth and generosity in the sound, which just occasionally can be a little too dry, but things are natural and fluid, with no hint of the mechanical about them.
Spellbinding Care
This is apparent in the sweeping soundscapes of Max Richter's music for 'Ad Astra' [Deutsche Grammophon, n/a cat no], mixing spacey voices and instruments with stabs of driving electronica. As ever with the A30, all musical elements are very much in place, and the fine detail extracted with exquisite, spellbinding care – but there's no suggestion of the 'soundscape' being viewed through rose-tinted spectacles.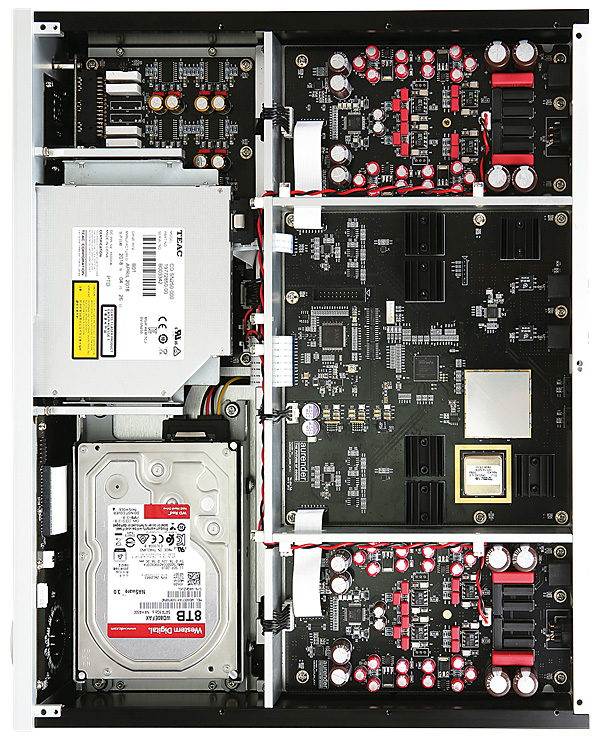 By way of contrast, the close-detailed yet resonant sound of Stile Antico's polyphony on A Spanish Nativity [Harmonia Mundi 902312DI; DXD 352.8kHz/24-bit] played more directly into the A30's hands, for here the delineation of the ensemble's voices and the sense of the acoustic space around them was deeply impressive. And with the 'one take' jazz of Angelo Verploegen and Jasper van Holten's tribute to celebrated Ellington tracks, The Duke Book [Just Listen JL019; DSD512], the player seemingly revelled in the simple instrumentation of horn and drums, delivering a real close-up view of the two musicians.
If all that sounds a bit 'hi-fi', it's because that's the way the A30 sounds – clear and to the point with everything under tight control. As a result it delivers a sound that's packed with detail, more so even with CD rips that I suspected sounded a smidge better than the original in some cases, thanks to the multiple-reads and error-correction used in the ripping process.
Even with pretty raw-edged music, for example some of the bluesier tracks from ZZ Top's Rio Grande Mud [from The Complete Studio Albums 1970-1990; Warner Bros, 192kHz/24-bit], the A30 kept its cool. Here, where the band winds up its sound into the form for which it would become famous, the A30 makes every nuance clear without the merest suggestion of harshness. Its sophistication never slips...
Hi-Fi News Verdict
There's no denying that the A30 is a remarkably comprehensive device, and – from its stylish lines and display through to the slick Conductor app – clearly one that's been thoroughly thought through. It handles a huge range of formats, is easy to configure and a delight to use. Settle on a favoured digital filter and 'current mode', and few network/streaming DACs will deliver so much musical information.