Auralic Altair G2.1 Music Library/DAC Page 2
As is the case with all the company's G2.1-series products, the latest Altair features Auralic's interference-busting 'Unity Chassis' design, its copper inner case held within a substantial aluminium chassis mounted on sprung feet for mechanical isolation. That's the inside story: the outer impression is of a product hiding its complexity behind a simple and elegant exterior, and with a noticeable sense of solidity when you heft it from the packaging – it may only be 34cm wide but it weighs a respectable 9.5kg.
Straight Talker
As I mentioned, I stuck with the 'Smooth' digital filter for the majority of my listening, and used the Altair G2.1 straight into my Naim NAP 250 power amp, as well as connecting it as a line source into the Naim Supernait 3 in my 'other' system, in both cases using my tried-and-tested Neat Acoustics and PMC loudpeakers for auditioning. Regardless of which set-up was employed, the Altair G2.1 proved a neutral and extremely clean source, presenting high levels of detail while never sounding mechanical or artificial. Indeed, it delivered excellent levels of musical involvement across a wide range of musical genres, again, regardless of the input that I used.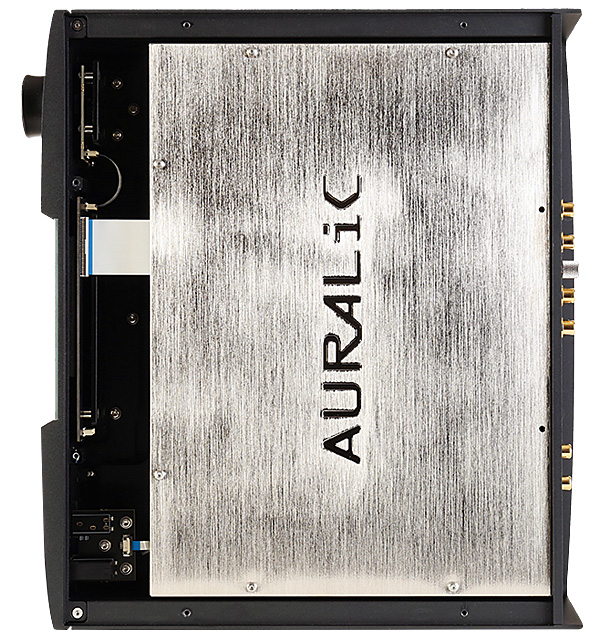 Whether with streams from online services, low-res Internet radio, or hi-res music served up from my NAS, the experience of using the Altair G2.1 was generally a case of 'move along, nothing to see here': the components into which you play it are going to have much more of an effect on the sound than this unit. True, the performance was very slightly drier when compared to my reference Naim ND555 [HFN Apr '19], which delivers more body and a greater sense of presence and performers being placed before the listeners, but that's hardly a criticism given the difference in price between the two.
Above all, the Auralic Altair G2.1 'communicates'. Play a demanding recording such as the recent Trondheim Symphony Orchestra set of Kleiberg concertos [2L 2L-166-SABD, DXD], and the sheer focus of the sound, and the natural balance of the solo instrument against the rich weight of the orchestra is breathtaking. As, I might add, is the sense of presence and space in the soundstage, and the speed and rhythmic drive on offer.
The same goes for Charlie Haden, Jan Garbarek and Egberto Gismonti's 1980 Magico album [ECM E1151]. Here the Altair G2.1 really gets its teeth into the label's typically gorgeous production, allowing the sax to soar above the deep, superbly-resolved bass, while the guitar and piano are also given full licence to be heard to thrilling effect. It's all so effortless, as well as being a richly rewarding listen, and the recordings don't have to be state-of-the-art for this player to work its magic.
Joyous Experience
Even with the Bill Evans take on 'Alfie' from his Another Time – The Hilversum Concert album, recorded (admittedly magnificently) back in 1968 and revived to DSD by the 2xHD label [2XHDRE1069], the sound brims with the easygoing interplay between Evans, Eddie Gomez and Jack DeJohnette in front of a small audience. It's a joyous experience via the Altair G2.1.
The timbres of real voices and instruments are a major strength here, for while mainstream pop is revealed in all its autotuned awfulness, give it something like 'Little Black Dress' from The Blessed Unrest, the 2013 Sara Bareilles album [Epic 88883739832; HDtracks 88.2kHz/24-bit], and it punches out not only every line of the vocal, but also the gutsy accompaniment, with real definition and impact. It's a sound to have you wanting to explore more of the singer's catalogue, fairer than which one really can't say.
It's also as adept when growling out some driving rock as it is when playing more hi-fi-show-friendly music. This review period coincided with the demise of ZZ Top bassist Dusty Hill, which almost inevitably led to a couple of evenings with me immersed deep in Texas boogie. I can tell you that from the slow-burn blues of 'Just Got Back From Baby's' all the way through to the charging guitar solo of 'Cheap Sunglasses', this new Altair did proud the exhaustive Goin' 50 compilation [Warner Bros 0603497851621].
Its analogue output drove the amplification, and thus the speakers, to suitably raucous effect, while still keeping those good-time rhythms rolling as the trio powered on. I even played the odd track – well all right then, quite a lot of them! – several times, just to immerse myself in all the thunder and snarl.
Hi-Fi News Verdict
Describe the Altair G2.1 as a technical tour-de-force, and one might seem to have fallen for all Auralic's proprietary technology, or to damn it with faint praise. Far from it: this excellent digital front-end combines ease of use and flexibility, and then layers on a crisp, clean and gutsy sound as adept at crashing out boogie as it is summoning up all the atmosphere of a classical concerto or intimate jazz trio.