Audiolab 6000A Amplifier/DAC Page 2
Everything is etched out precisely, from the big bass guitar line pushing things along, to the spiky rhythm guitar giving great impetus and urgency to the music. The lead vocal harmonies are delivered with energy and speed, and there's plenty of detail in the mix. The 6000A sounds in its element here, its slight tonal dryness being more than compensated for by the majestic scale and sweetness of this classic track. I was struck by its willingness to tackle the boldest of dynamics, making for a most pleasurable listen.
Feed it the driving mid-'80s indie-rock of Easterhouse's 'Whistling In The Dark' [from Contenders; Cherry Red CDM RED 185], and again it proves lots of fun. This is a fast and lithe-sounding product and it captures the music's attacking guitar transients with aplomb. It sounds highly percussive, and syncopates well with the frenetic drum work. Even the lead vocals are well handled, integrating perfectly and giving the song a really direct, to-the-point feel. It's a dense, quite compressed recording, and yet the 6000A cuts through it imperiously – showing surprising grip and command of the detail. If anything, it sounds fractionally better resolved than I remember with its bigger 8300 brother, sounding a little faster and more nimble on its feet here.

Digital Diva
The digital input takes things up a notch, with more detail and directness than the analogue line inputs. Indeed it's here that you begin to realise how good the soundstaging is for a product of this price. Okay, so Randy Crawford's 'Rio De Janeiro Blue' [from Secret Combination; Warner Bros. Records WPCR-28100] did lack the full depth offered by better, pricier amplifiers – but was still surprisingly spacious from left to right.
Instruments were set up in the mix with impressive focus, and you could follow them for the duration of the song without getting distracted. Unlike many integrated amplifiers of this price, vocalists and instruments do not subtly fade in and out as the music gets more complex, or the mix more dense. The vast acoustic of the Jesus-Christus-Kirche Berlin was blissfully evident when playing Beethoven's Pastoral Symphony [BPO/Karajan; DG 2531106] via the phono input, too. Again, this proved the point that neither the digital nor MM phono inputs were included by Audiolab just to make up the numbers.
He's Not Heavy
Moreover, the 6000A proved able to drive loudspeakers up to reasonably high volume levels in my largish listening room with no undue signs of stress. It's no American muscle amp though, because when you really twist the volume knob clockwise it's clear that it lacks the ease and low-end grunt of its beefier 8300 bigger brother.
This is especially obvious when playing heavier rock music, but the trick is to match it with reasonably easy-going loudspeakers, and keep it in the comfort zone. Cambridge Audio's Aero 6 floorstanders proved a perfect match – even the vast swathes of granite-like sub bass from LFO's '90s techno classic 'Low Frequency Oscillation' [from Frequencies; Warp Records WARP LP 1073] didn't see it complaining. It does get quite warm playing this sort of music for any sustained period of time however – if not exactly breaking into a sweat – but my ears shut down before it did!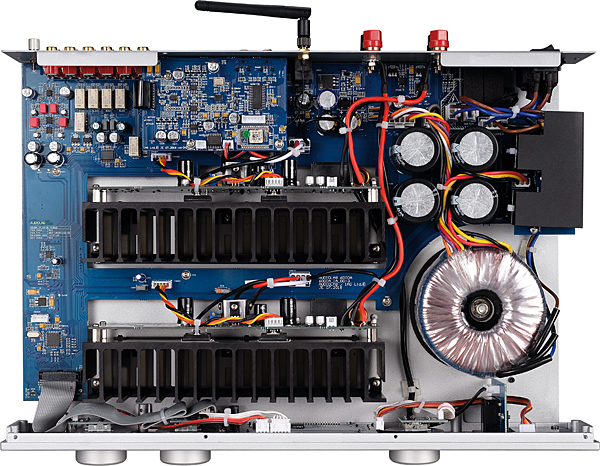 Huge Respect
One potential downside to the Audiolab 6000A is its slight lack of musical charm. It's the sort of amplifier you develop a huge respect for yet don't quite fall in love with. For example, its reading of The Box Tops' 'The Letter' [Best Of The Box Tops – Soul Deep; Arista 07822 18937 2] – a jaunty yet melancholic '60s pop song – came across as slightly too clinical for my tastes, and with a drier tone than I would have preferred.
The music didn't quite gush with emotion in the way that perhaps it should have, but still proved quite fun to hear all the same. It's a trade-off, and while there are more emotive-sounding rivals around, they typically lack this amplifier's grip, control and insight.
The 6000A's consistency across musical genres really impressed me. Its smooth, unflustered delivery doesn't flatter any one type of music, yet is revealing enough to let you right into the recording. Fed from a top-notch source, the fast, punchy electronica of Nu Era's 'Starlight' [Aquarian Android; Omniverse OMNI1202] benefited from the 6000A's intrinsic 'cleanliness' – so even if it doesn't set out to thrill, there's always something going on to enjoy.
Here it was the frequency extremes that really drew my attention; the synthesised bass line was taut and tuneful, while the looped hi-hat cymbals were clear and sparkly. Even the Bluetooth input proved pleasing, with a bouncy rendition of Caravan's 'Nine Feet Underground' [In The Land Of Grey And Pink; Deram 8829832]. As this classic '70s folk rock epic twisted and turned, Audiolab's newest arrival picked up the beat and grooved along with it. What more could you ask?
Hi-Fi News Verdict
The new 6000A really is a great value modern integrated. It offers a decently powerful, 'grown up' sound with the facilities that today's budget amplifier buyers actually want. Its built-in DAC and phono stage are really rather good, and the build and finish are first-rate. Indeed, this is just what attracted those '80s and '90s buyers to Audiolab's original 8000A, all those years ago. And so the legend lives on…