Audio Technica At Oc9/iii (£549)
Cosmetically identical, the latest revisions to the OC9 are all internal.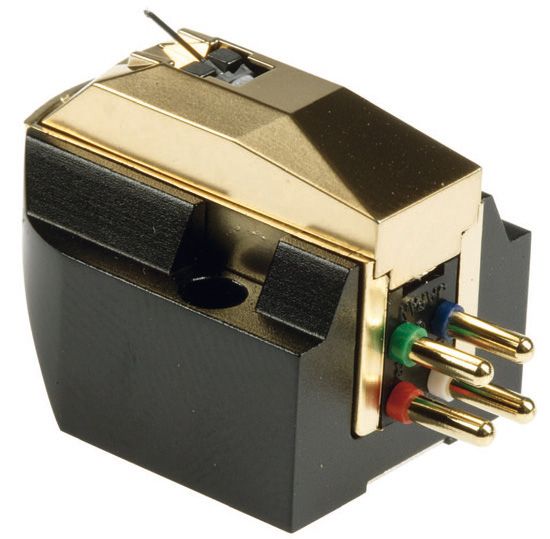 For those wanting a taste of luxury at a sensible price there has long been Audio-Technica's AT-OC9. First introduced in 1987 it has always been regarded a bargain of sorts, boasting robust construction, excellent tracking ability and a polished and pure sound. Certainly it was less romantic and mellifluous sounding than many cost-noobject MCs, but it was highly detailed and refined while possessing terrifically tight bass and vivid imaging.
The design remained unchanged for many years until the 'OC9M, which had Audio- Technica's MicroLine stylus profile. Then, just a couple of years ago, we saw the introduction of the AT-OC9ML/II – but soon its price had doubled.
While the sales and marketing literature waxes lyrical about myriad improvements in this new AT-OC9/III, we suspect this latest incarnation has been designed to keep down both costs and hence price. For example, the 0.26mm diameter cantilever remains solid boron but is no longer gold-plated as it was in the AT-OC9ML/II. And gone is the MicroLine stylus, the new model using a more regular line-contact profile stylus with a 40x7μm tip radius. And where the AT-OC9ML/ II employed a high flux samarium cobalt magnet the new AT-OC9/III uses a neodymium magnet with a permendur yoke (an alloy of cobalt and iron), though A-T says it's a combination that boosts the magnetic field concentrated in the coil gap. The twin coils are made using PC-OCC wire. However, in this re-design the L/R channel coils have been aligned in a reverse V-shaped formation, said to reduce the vibration mass as seen from the stylus tip. The coils are held in place by what the AT calls a 'VC mold' made of synthetic resin combined with potassium titanate.
As we still had the 'OC9ML/ II sample tested in July '09, we were able to audition the MkII and MkIII 'OC9s in succession under identical system conditions, using a Townshend Rock Reference/Excalibur turntable/arm combination and RCM Audio's excellent Sensor Prelude phono stage. We also dug out some of the same LPs used in that review.
FREE FLOWING
'Woman', from Free's eponymous 1969 album [Island ILP-9104], sounded open and spacious, differences between the MkII and MkIII 'OC9s initially proving difficult to pin down. With both variants the soundstage was rock solid with a good helping of air and space around instruments, the body and resonance of the drum kit being exposed explicitly. The ringing of cymbals was commendably lifelike too, with tremendous attack and shimmer to their presentation. We did hear a difference in the character of the bass and Paul Rodgers' vocal. The new version sounded a little lazier and more 'plump', the bass line intro to 'Woman' didn't stop and start with quite the same precision and was a touch more weighty. The voice appeared more spot-lit too.
With a remastered pressing of Reiner's Rimsky-Korsakov's Scheherazade with the Chicago SO [Chesky Records, RC4], there was no loss of vibrancy to the shimmering strings and the presentation was as forthright and immediate as one would expect from an 'OC9. We were taken by the new model's less matter of fact demeanour: the sound was still controlled and precise, but had a more freeflowing character and thicker bass texture. Climaxes in the last movement were explosive, with the decay of sounds in Chicago's Orchestra Hall finely resolved.
VERDICT
So while it remains ultra-clean sounding and treble detail is finely etched, this new 'OC9 packs more of a subjective punch in the bottom end. And it can still lay claim to being one of the most affordable high-end MCs around. The sound is vivid, refined and highly detailed.

Originally published in the Yearbook 2011