Audia Flight FLS 9 Integrated Amp

Eagerly anticipated, Audia Flight's 'starter' FLS series integrated accommodates a suite of optional modules. Could this be the high-end hub you've been waiting for?
A'synergy of sophisticated original circuit design and Italian style'. That's the promise of Audia Flight, the company established in 1996 by Massimiliano Marzi and Andrea Nardini. Arguably a 'boutique brand' by virtue of a product line focused almost entirely on amplifiers, the lone standout is a CD player in its entry-level 'FL Three S' range [HFN Sep '07]. We are testing its newest addition here: the FLS 9 stereo integrated which pledges to showcase the brand's audiophile philosophy at a price more manageable – beginning at £5950 – than that of its other high-end creations.
Available in either silver or black anodised finishes, the FLS 9 joins Audia Flight's earlier and more expensive FLS 10 [HFN Dec '17] integrated amp in a series the company says 'represents all we have learned over our 20 plus years'. To wit: it borrows circuit ideas from the reference Strumento range, while channelling elements from the company's Classic series, which is now only represented by its FL Phono preamplifier.
Meanwhile, power is rated at 150W/ 8ohm (290W/4ohm), and up to 500W into 'impedance critical' 2ohm loads. So the FLS 9 is not as monstrous as Audia Flight's 500W/8ohm Strumento No8 monoblock amp, but neither is it that much skinnier than the 200W/8ohm (and £2000 costlier) FLS 10.
Following Tradition
The core design of the FLS 9 follows the transimpedance/current feedback approach – described in our Strumento No4 [HFN May '19] and FLS 10 reviews – that debuted in its 1997 Flight 100 model. In the meantime, while its amplifiers have become smarter-looking, its insistence that current feedback brings benefits in transient response and load management compared to voltage feedback designs hasn't waned. The FLS 9, therefore, is very much a chip off the old block.

All Audia Flight's products are hand-built in its Civitavecchia facility, situated 70km north-west of Rome, and the FLS 9 certainly exudes the air of being lovingly put together. It has a stately look that separates it from market rivals which play around with two-tone finishes and 'look-at-me' aesthetics. The fine-brushed aluminium chassis features an engraved logo on its top plate, while the front fascia places a blue OLED display above a curved edge, and control buttons and volume dial below. Hefty at 25.5kg, and with a width (450mm) that goes beyond the standard 'full-size', it looks and feels ready for business.
This amplifier also offers an element of future proofing and customisation. In its basic form the FLS 9 is as an all-analogue integrated, with three unbalanced RCA and two balanced XLR inputs, plus balanced/unbalanced pre outs and an unbalanced tape output. Yet adjacent to its connection bank are two slots for optional cards.
On The Boards
Audia Flight's current roster comprises an MM/MC phono board, an additional two-line input card and a DAC board, with a network streaming module in the pipeline which is said to arrive this summer. Our review sample was fitted with both the £1100 phono stage and £1850 DAC modules, the former including separate, fixed-gain MM/MC inputs with comprehensive impedance settings on DIP switches.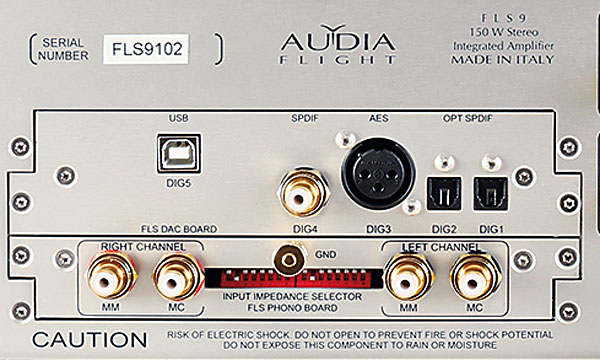 The optional digital module includes asynchronous USB (supporting 768kHz/32-bit and DSD128) and AES/EBU, two Toslink optical and one coaxial S/PDIF to 192kHz, so the end result is an integrated that comes close to covering all bases.
The amplifier's relatively uncluttered front panel belies the flexibility and complexity within. Via the OLED display and volume control (which does double-duty as a navigator of its nested menus), user options include input renaming, setting a 'soft' mute level, home theatre bypass mode, adjustable gain settings for each input, PCM digital filters, and more. A button labelled 'SPK' mutes the amp's speaker output for headphone listening, and you also have the option of listening through both a headphone and speakers simultaneously if you wish.
Operationally, the FLS 9 is a mixture of pleasure and, it has to be said, pain. The supplied milled aluminium remote feels luxurious in the hand, and its controls largely copy those on the amp's front panel. Yet whichever method you opt for, adjusting settings is a somewhat fiddly, time-consuming business, particularly input renaming. And then there's the volume control itself which, while operating over a user-friendly range of –90dB to +10dB in ±0.5dB steps, lacks hysteresis and seemingly spins for an eternity. The process is marginally faster when using the remote control, but still doesn't favour those who like to respond quickly to demands of 'turn it up (or down)!'.