Antipodes Audio Oladra Network Audio Library

The premier 'server/player/reclocker' from New Zealand brand Antipodes Audio boasts a host of proprietary technology and supports up to 24TB of user-installed SSD storage
Network audio is a significant growth area in hi-fi, helped along by network-connected transports and servers, designed to be used into offboard DACs. We used to call these devices 'network bridges', interposed between the home network, and any storage devices thereon, and an audio system. Nowadays they've grown beyond that basic functionality, being able to access music stored internally or via directly connected drives. Meanwhile, the 'network connectivity' is used to access online streaming services, and offer remote control via a tablet or smartphone app.
Each of these transport devices has its own spin on what's being attempted, and the claimed benefits of their proprietary technology – think Auralic [HFN Jun '23], Aurender [HFN Jul '23], Innuos [HFN Jan '20], Melco [HFN Apr '22] and others. Joining this rarefied club is the £25,000 flagship Oladra from Antipodes – it hails from New Zealand, is offered in either silver or black finishes and is described by its manufacturer as a 'Server-Player-Reclocker'.
Swooping Style
Based in Otaki, some 70km north of Wellington on the eastern coast of New Zealand's North Island, Antipodes began life in 2004 as a manufacturer of high-end audio cables 'based on our own proprietary open-lattice pure silver and pure gold wire'. 2011 saw the brand offering a music storage/server range which, some 12 years later, now kicks off with the shoebox-sized S30 music server, at £3500, to which the user can add an S60 PSU and S20 reclocker, at £2200 and £2700, respectively.
While Antipodes' S and K series models are conventional 'box-shaped' designs, the top-of-the-range Oladra is housed in full-width (445mm) casework, with a swoopy, organic-looking aesthetic that's fully revealed in the silver finish and just a little disguised in the matt black pictured here. In either colourway, it looks rather slick.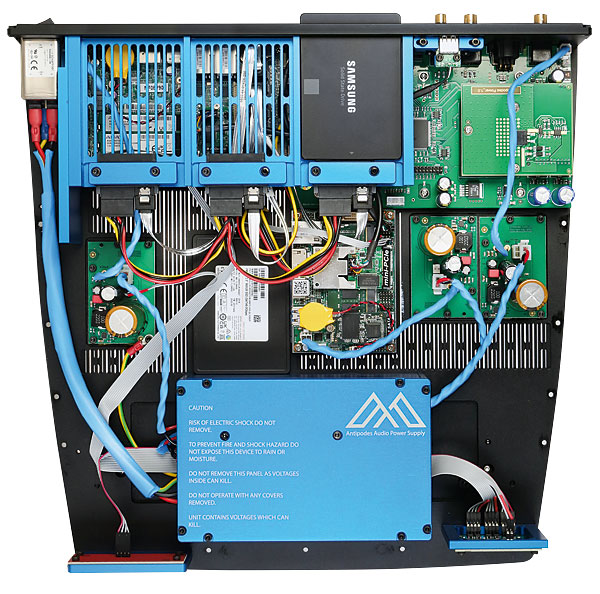 The Oladra is a network transport, able to play online music services via the user's Internet connection, but also has a trio of 2.5in SSD storage slots in the rear panel, each ready for a drive of up to 8TB. So, spend an extra £1200 or so on three high-quality drives, such as Samsung's 870 QVO, and you have a unit capable of hosting the most substantial of music libraries.
Content can be copied to these drives once they're designated as music storage, all of which is done via the Oladra's control interface running on a computer on the same network. It's also possible to connect a CD-ROM drive to one of the unit's three rear-panel USB ports (these can also accommodate external USB drives if desired) and use that to rip discs to the storage. It's worth noting here that CD ripping is perhaps better described as painstaking rather than swift, the company opting for accuracy rather than speed.
Already got a music library on a NAS? No need to copy its contents to the Oladra as the control interface allows these storage options to be pooled together, appearing to the user as a single library. However, with no dedicated app, the Oladra must be 'driven' via browser software running on a PC or, more ideally, a tablet.
Dual Design
If that doesn't appeal, then the Oladra can be employed as a Roon server/player, as well as supporting other player apps including Squeezelite, NAA and MPD – that's all part of Antipodes' design here, which employs separate computer 'engines' and control interfaces for its server and player functions. The former runs on what the company calls its 'V7H high-power computing engine', which has 64GB of RAM, and a proprietary internal link to the player section.
The company reasons that reduced computer power is needed for playback, so the 'V7X engine' in this department is a lower specification processor with 8GB of RAM, feeding both the direct USB audio output and a galvanically isolated reclocking section that services the conventional digital outputs. This uses an FPGA-managed, temperature-compensated clock, and is fed by a high-quality power supply employing 'Graphene super-capacitor smoothing'. Discrete line drivers are used for the digital outputs, which run to S/PDIF (RCA & BNC), I2S (RJ45 & HDMI) and AES3 (3-pin XLR) outputs.