Antelope Audio Zodiac+ (£1895)
A crossover from the pro sphere with an extensive feature set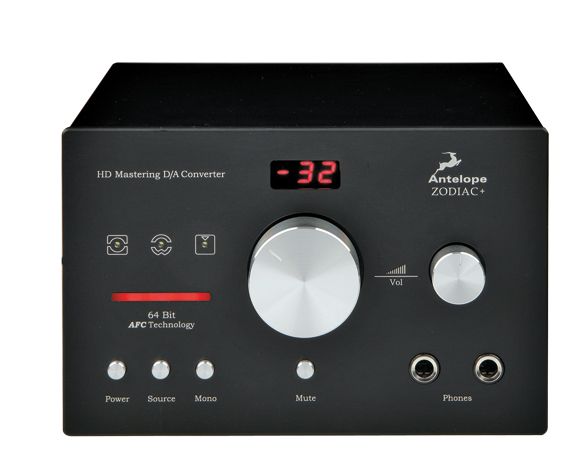 Antelope Audio is better known in the pro audio industry than in the audiophile world, although its attendance at the recent Munich high-end show is evidence of its desire to bridge the divide.
A glance at the Zodiac+ suffices to confirm its pro heritage. Not only does it describe itself as an 'HD Mastering D/A Converter' on the fascia, at the back there are unusual features such as balanced analogue inputs on 1⁄4in jack sockets, a word clock input and de-jittered digital outputs for daisy-chaining to other devices – none of which many audiophile buyers will ever have cause to use.
The fascia is dominated by a central volume control that adjusts output level on the balanced and unbalanced analogue outputs. A second, small control knob to the right varies output level on the twin headphone sockets. Above the main level control is a small display that identifies the active input – which is auto-detected – and shows the input sample rate. When the volume control is adjusted it transiently indicates volume setting. Both the S/PDIF and AES/EBU inputs are good to 24-bit/192kHz, and the manual claims that the USB interface is too.
I had high hopes of the Zodiac+'s sound quality given that it is the costliest model here but it delivered only a mid-pack performance.
WHERE'S THE CHARM?
The key issue is that it has neither the seductively spacious euphony of the Electro nor the resolving power of the North Star, let alone the fine amalgam that's offered by the Benchmark. It's not that it sounds poor, just undistinguished in this present company. So there was a little magic, a little charm missing from the wistful Kodály cello pieces, and 'Perfect Sense, Part 1' lacked the nth degree of transparency that makes it, at its best, such compelling listening. The insistent energy of the Tippett was pulled back a notch, particularly compared with the Benchmark, and the imaging lacked the grand scale of the Electro. Grace Jones et al were softened a bit too.
These descriptions apply as much to the headphone output as to the phono outputs, the Zodiac+ failing to match the crystalline transparency available via the Benchmark's jack sockets.

Originally published in the August 2011 issue