Alta Audio Alec Loudspeaker Page 2
Not only that, while some loudspeakers pull things towards you, some stretch things wide and some create impressive depth, the Alecs do all of this and more, and do it with panache. Compared to many loudspeakers, the listening experience is like your first taste of 3D cinema. They'll almost make you duck as effects are launched at you, and the soundstage is nothing short of cavernous.
However, to misquote Jaguar, this space and pace is not without grace. The soundstage might be vast, but the precision of instrument and vocal placement is exemplary. There's a 'shaker' noise in the background of Boozoo Bajou's 'Down And Out' from their Satta album [Stereo Deluxe SD069] that pans from left to right and back again. Yet through Alta's Alecs, it was clear this sonic effect was moving from the front on the left to the rear on the right. And the thumping bass beat and synthy basslines on this track were wonderful – deep, rounded and taut.
The Alecs pulled out effects and spread them wide and far. Helping out is one of the finest treble performances I've heard from a loudspeaker at this level. Alta Audio's ribbon tweeter does have a somewhat limited vertical dispersion, so listening at ear level is recommended; do this, though, and the performance is sublime, with a clean, spacious top-end that captures tiny details without over-emphasis. The word I kept writing down was 'natural', but perhaps it's better to just say that cymbals sounded like cymbals, flutes sounded like flutes and violins sounded like violins. The vibraphone on 'Paris Skies' from Kate St. John's Indescribable Night CD [All Saints ASCD25] positively sparkled.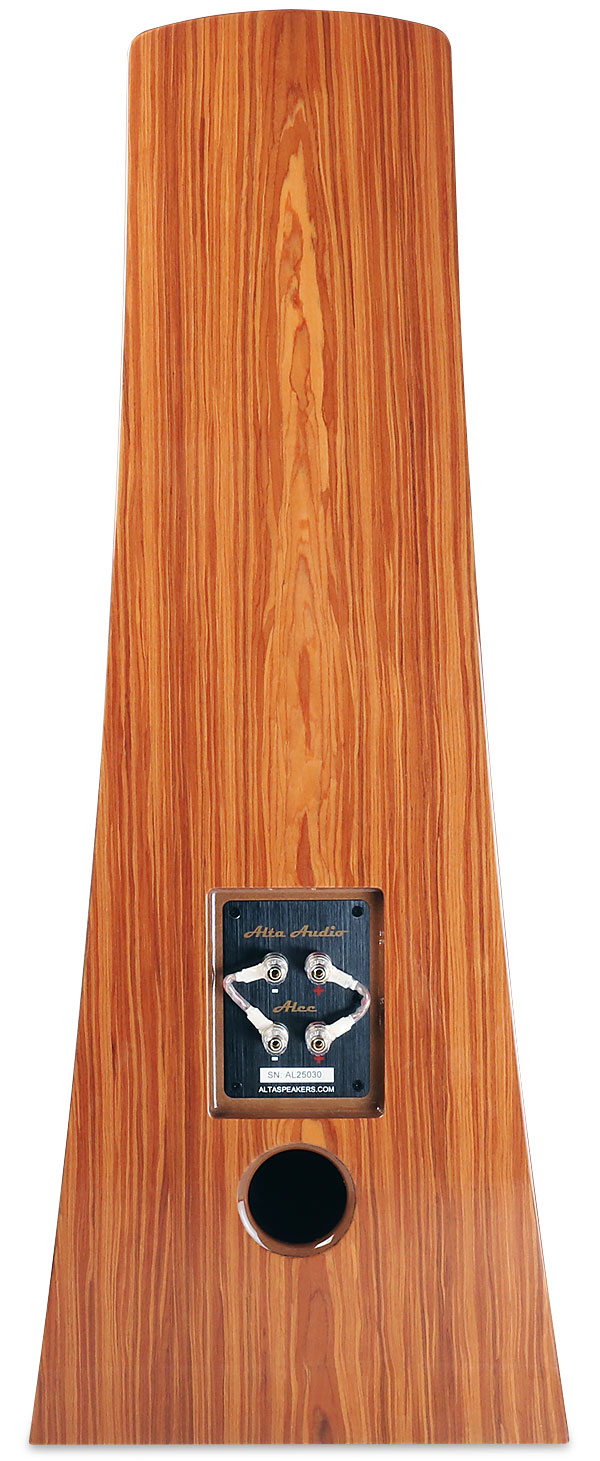 This open nature pays dividends with vocals too. The handover between the Alec's bass/mid and HF drivers is sympathetic and lead singers sound intimate and lifelike. Greg Gonzalez's voice on Cigarettes After Sex's 'K', from their eponymous LP [Partisan Records PTKF2146-1], sent shivers down my spine with its insight. I could hear his lips pressed against the microphone, blurring the occasional consonant.
Up And Down
At this point, you may wonder if there's a 'but' coming, and there is. The Alec's bass extension and detail is quite remarkable but also rather inconsistent. Tuning of the line and port to multiple frequencies means that there are several peaks and troughs in the bass range – this can be heard using a sine wave sweep. The result is you're never quite sure if the Alecs are going to be just right, too over-exuberant or leave you feeling short-changed.
As an example, the bass guitar on Simply Red's 'Sad Old Red' [Picture Book; Elektra EKT27 960 452-1] was superb – each note lithe, clean and crisp, along with hand movements along the fretboard. In contrast, on the Cigarettes After Sex track, the bass strings sounded indistinct and somewhat bloated. Moreover, the bassline on Jenny Jones' 'Blessed Northern Daughter' [Go! Discs GODX 103] was gently glossed over, although the weight and punch of the kick drum went some way to disguise it.
Conversely, the vocal 'pop' in the second verse of 'Somewhere, Somebody' from Jennifer Warnes' The Hunter [Private Music 261974], which is usually firmly in subwoofer-only territory, was easy to hear. In addition, the rib-tickling bass underpinning 'Turning Ground' on Caroline Lavelle's Spirit [N-GRAM Recordings 4509 98137 2] was present and correct, and didn't modulate the vocals at all – an unwanted effect I have heard before through lesser designs. When the Alecs get it right, they get it very right indeed.
Hi-Fi News Verdict
Alta Audio's Alec is one of the most intriguing loudspeakers I have heard for a very long time. Sure, the inconsistency of the 'Extended Transmission Line' system does rather hold it back from true greatness, but the imaging, treble and overall bass extension are quite remarkable. Nit-picking I may be but, ultimately, I enjoyed my time with the Alec. It has some rare and impressive strengths!