Accusound XD Loudspeaker Cable
Designed, manufactured, assembled and tested in Massachusetts USA, Accusound brings no-nonsense pro-cable thinking to the high-end scene.
With one foot firmly planted in the pro audio sector, US brand Accusound is also reaching out to the audiophile community with a limited range of interconnect and speaker cables. All its cables are assembled in America, the company boasting a cohort of industry pros vouching for its various instrument, microphone, tube microphone and patch cables.
The domestic user (that's us) gets a range of three interconnects, offered in both single-ended and balanced guises, a trio of speaker cables and a 75ohm/110ohm digital interconnect. XD is its flagship series, though it appears to share the same geometry, choice of dielectrics and overall construction as the more affordable SL speaker cable.
A spade/4mm-terminated 3m set costs £3999 (or £5999/4m and £7999/5m), so this XD speaker cable is right up there with the high-end exotics. The price stems from Accusound's use of Furutech 'Alpha Process' terminations for its XD cables, together with 'hybrid silver/copper blended strands' instead of the gold-plated bananas and straight 6N copper used in its SL cable.
No fewer than 259 very fine strands are packed into the 12-gauge signal and return conductors, these insulated in a soft PE dielectic, lightly twisted and secured in an outer PVC jacket. A grey nylon 'TexFlex' braid provides physical protection without compromising either this cable's weight or its impressive flexibility.
The geometry and conductor specification gives its XD cable a low 9.6mohm/m series resistance (a loss of just 0.01dB/m) and a parallel capacitance of 87.1pF/m against a 0.59µH/m loop inductance. These are not high numbers, so long runs of XD will not prove problematic for any sane amplifier!
A White Light
Deployed between my B&W 800 D3s [HFN Oct '16] and Constellation Taurus amp [HFN Dec '17], this 7m run of XD cable did not bring a fundamental change of tone to the system but it did alter the presentation of certain mixes. The strike of steel guitar and percussion was subject to a slight emphasis with Tracy Chapman's classic 'Fast Car' [Eponymous, Elektra 960 774-2], so while her vocals were no less detailed, focused or emotive, the acoustic strings took something of a back seat to the metal and to the well-rounded, impactful bass.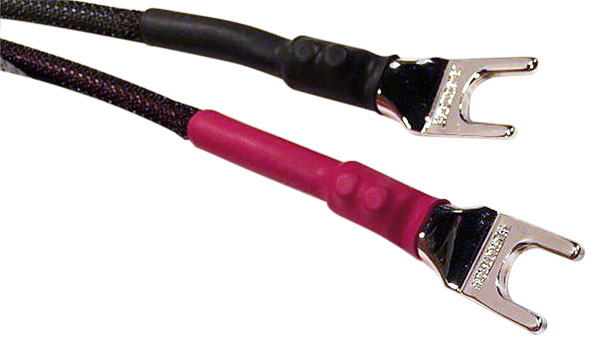 So this is a change in emphasis rather than balance, a sharpening of detail that launched Eleanor McEvoy's Thomas Moore Project [MOSCD4015] into the room as if performed on a stage of white light. The trombone on 'Last Rose Of Summer' brought an insistence missing on the warmer-sounding 'Though Humble The Banquet', for example, so while the former sounded too forward, the latter sounded impressively expansive.
Hi-Fi News Verdict
There's an analytical quality to this cable that will either serve to deliver insight or render any coarseness already present in a system more obvious. If light is required, however, Accusound's XD has the capacity to search out detail in the gloomiest corners of the busiest mixes and expose it for good or ill. Rose-tinted this is not, for XD is on a mission and only a home demo will commit you to joining it on the journey.
Price: £7999 (5m stereo set, terminated in spades/4mm plugs)