Tad Tad Da1000 (£11,995)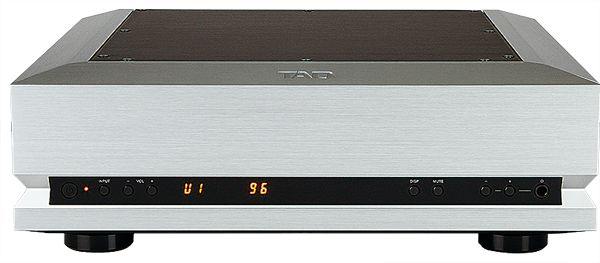 Matching a commanding physical presence with impeccable sonics, the TAD-DA1000 sounds inviting and unruffled across any media you throw at it
Known originally for its professional studio speakers, Pioneer's Technical Audio Devices brand is now firmly established in high-end consumer audio.
Late last year, TAD announced the D1000 disc player/DAC and the DA1000 as a DAC-only alternative. Both offer the same DAC input options, but the DA1000 also includes a linear volume control, for direct connection to a power amp, and a separate headphone amplifier (fascia controlled for level). Both new models, says TAD, 'integrate a newly developed, ultra-high accuracy master clock equivalent to that employed in the higher-level TAD D600' [HFN May '12].
Physically, though it lacks the dramatic V-fronted 'bow' of the D600, the DA1000 is still a true battleship, housed in an 8mm-thick pure aluminium chassis. Heavier components are placed in the bottom chassis, lowering the centre of gravity to reduce the effects of external vibrations, while power supply vibrations are minimised by mounting the supply within a thick-walled brass base.
Front-panel controls are discreet, almost hidden between the upper and lower bulwarks of the massive casing. An input selector button cycles through the USB and four other digital inputs, while ±Vol buttons control line output level.
As delivered, the USB input comes ready to play in its default mode, indicated on the display as U1. This supports USB Audio Class 1.0 and USB 2.0 high-speed and allows sample rates up to 96kHz. To explore the full potential of the DA1000, you need to switch to USB AudioClass 2.0 DoP mode, indicated by U2 on the display. This can handle 24-bit/192kHz and even 32-bit/384kHz data, and supports the DoP format for 'DSD over PCM'. However, the TAD-DA1000 always downsamples higher-rate audio inputs to 96kHz.
For set-up with a PC, you need to download an appropriate driver from the TAD website but if you're a Mac user, operation is plug 'n play.
Effortless
With downloaded 24-bit/96kHz material, mostly from HDtracks, the DA1000 seemed airy, transparent and simply able to let the music through in an unforced and natural way. It certainly brought orchestral music to life.
On one of the classical tracks from Chesky's 2013 sampler, Rimsky-Korsakov's 'Dance of the Tumblers', the DA1000 was able to give a fabulous depth and scale of image, with a really effortless sound from the big orchestra, and an impressive display of air-moving sound from the timpani.
We were equally captivated by the 24-bit/96kHz presentation of Patricia Barber in 'The Wind Song', from her Concord Jazz album Smash. It was great to appreciate the real subtlety of the singing 'wind' sounds she somehow coaxes from the piano, starting off as a kind of soft breeze before bassist Larry Kohut and drummer Jon Deitemyer join in to build up the momentum, with an almost ridiculously big bass sound from Kohut that seems to leap up and over the soundstage. But nothing overpowered or diminished the sheer intensity of Barber's vocal delivery in this song.
Playing music ripped from CDs, the DA1000 displayed a creamy, smooth and full-bodied sound. In the tremendously atmospheric album O Que Sera by Bollani and de Holanda [ECM], the live, reverberant sound was truly invigorating as this virtuoso duo engaged in their most fantastic flights.
Listening to material recorded at the highest sampling rates, we got enjoyable results too, despite the fact that the DA1000 was downsampling them to 96kHz. Tony Faulkner's recordings of Dvořák and Rachmaninov still conveyed tremendous dynamics, with bottom-end power and extension providing a great musical foundation.
Verdict
Matching a commanding physical presence with impeccable sonics, the TAD-DA1000 sounds inviting and unruffled across any media you throw at it. Its genuinely usable volume control means you only need a power amp to complete a very high-end system.
Originally published in the 2014 Yearbook