Tad C600/m600 (c600, £27,000; M600, £26,000 Each)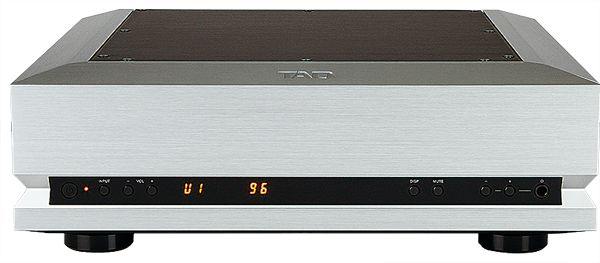 Striking a near-perfect balance between explicit 'studio monitoring' and home hi-fi 'musicality', the TAD should be on any audiophile's dream wish list
This lavishly-built C600 preamplifier and unusual looking partnering M600 monoblocks [not shown] are TAD Labs' 'Reference' amplifiers.
The C600 preamp's aluminium subchassis is 33mm thick and weighs 15kg alone, designed to resist acoustic vibration and provide a 'low and stable ground potential', says the company. Removing the preamp's top plate reveals its dual mono construction and all-discrete signal path; it's a fully balanced design. The power supply, with its massive transformer, is a separate 'hideaway' unit.
And since the D600 disc player we've tested [HFN May '12] sports digital inputs, the C600 is a 'pure analogue' preamp, with six line-level inputs, three balanced and three single-ended, and balanced and single-ended outputs alongside two fixed-level 'record' outputs.
Other buttons on the C600's front panel offer mute and display-off while also accessing the preamp's comprehensive setup menu. Build quality is immaculate, the C600's rotary input selector and volume control – adjusting gain in either 1dB steps, or 0.5dB increments – feeling truly luxurious in operation. A perfunctory remote handset covers essential functions.
Meanwhile, the idiosyncratically-styled M600 monoblocks are truly massive beasts each weighing 90kg; they sit squat on a graphite cast-iron monocoque chassis with spiked feet. Conservatively rated at 300W/8ohm the power amp is fully balanced and sports a solitary XLR input socket at the rear. Two sets of speaker outputs are provided. (As it's a bridged transformerless design, use with electrostatics and some Tannoy models is precluded.) Power on/off is via a rocker switch concealed under the front edge of the amplifier's chassis.
Never flustered
These designs deliver fabulous bass depth, detail and 'grip' combined with sprightly delicacy and finesse through the midrange and treble. Consequently things can really rock at high SPLs while remaining civilised and controlled. They don't get flustered with densely-packed productions, and with purist audiophile recordings instruments and voices appear clearly separated by inky-black silences.
Where the M600 power amps appear 'fast' and explicit – albeit with never a hint of harshness or glare – and supremely authoritative, the C600 preamp could be accused of sounding slightly reticent and laid-back. However, with TAD Labs' Compact Reference (CR1) monitors you'd garner a different opinion, the electronics virtually disappearing within the replay chain.
Stereo imaging is exceptional, with outstanding inner texturing and detail that allows forensic inspection of recordings, yet the overall balance is surprisingly smooth and relaxed. In particular, they render percussion and brass in an appropriately aggressive and unsettling manner when required.
The amplifier combo brought several 'difficult' recordings to life. Joni Mitchell's Dog Eat Dog album from 1985 [Geffen] has an electronic 'edge' that we've always found fatiguing, but the C600/M600 combo made easy work of it, sounding refined and civilised. The sound effects during 'Smokin'' leapt out, while Mitchell's multi-layered vocal lines were delivered with uncommon clarity and fine diction.
To witness these amplifiers' supreme naturalness we played various hi-res recordings of the Norwegian Helge Lien Trio [24-bit/96kHz FLAC, highresaudio], the depiction of each recording venue's ambience, the decay of the piano, the delicacy of gently caressed cymbals and brushes sizzling across the snare drum proving exquisite in their realism.
Verdict
These hand-crafted amplifiers are immaculately finished and fully deserving of their price tags. Striking a near-perfect balance between explicit 'studio monitoring' and home hi-fi 'musicality', they should be on any audiophile's dream wish list.
Originally published in the 2013 Yearbook