T+a Mp 3000 Hv (£7900)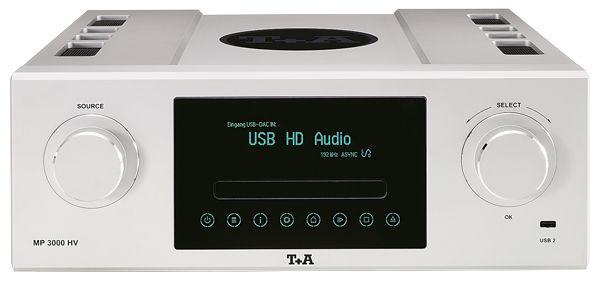 This magnificent digital front-end component exhibits considered thinking and is evidently a work of passion and dedication to excellence
Since reviewing T+A's DAC 8 converter [HFN Oct '12] it has become something of a reference for us. The same DAC architecture has been transplanted into this luxuriously built multi-function media player, the first of a new line of high-end pure audio components, dubbed 'HV' for High Voltage [see also p73]. The MP 3000 HV comprises a CD player, a UPnP network client for computer-sourced music streaming via Ethernet or WLAN, an internet radio incorporating thefamiliar vTuner platform, and an FM radio tuner with RDS. Naturally, since it has a high-end DAC at its core, it features an asynchronous USB input for 'pushing-in' audio data from computers, and it sports no fewer than six digital inputs at the rear to accommodate a plethora of digital sources as well.
Furthermore the on-board streaming client (SCL) can play music files directly from HDDs and memory sticks via two Type A USB sockets, one on the rear panel and another on its fascia. Think of it as T+A's Music Player balanced (albeit without iDevice connectivity) but on steroids – since it features the company's top-line DAC and has been built without compromise.
There are five compartments, separated by aluminium dividing walls, housing the MP 3000's DAC, digital supply, analogue supply, analogue section and, behind the 4cm-thick fascia, its control circuitry and display screen. The CD transport, whose drawer is guided by two stainless steel pushrods, lies in a sealed housing and floats on a three-point suspension system.
At its core, are eight Burr-Brown 32-bit/384kHz Sigma Delta DACs used in a 'double symmetrical' quadruple arrangement, with oversampling carried out by a 56-bit DSP. The MP 3000 HV also features four digital filter options that can be selected via the FD 100 handset: a bi-directional RF controller with built-in colour LCD.
For USB Audio Class 2.0 functionality and the ability to play 24-bit/192kHz files, you'll need to install T+A's driver. Unusually, this goes for Windows PC and for Macintosh computer users.
Musical insights
It came as no great surprise that when used as a standalone USB DAC the MP 3000 HV doesn't sound identical to the DAC 8. Sure, it displays a similarly 'clean' purity that provides a transparent window through which to observe music, but where the DAC 8 appears squeaky-clean and vibrant, the MP 3000 HV adds a little warmth and maturity. This was illustrated by the reproduction of acoustic bass, piano and voice in Patricia Barber's 'Bye Bye Blackbird' from her Nightclub album [Blue Note/Premonition].
The piano appeared bolder and richer-toned here, Barber's voice more intimately mic'd and the reproduction of the track's double-bass better defined. This fabulous recording, one that we use so often as a reference, sounded divine.
We didn't always prefer the tonal character of the MP 3000 HV over T+A's leaner-sounding DAC 8. Listening for example to a Channel Classics excerpt from a Haydn string quartet, the sound was more open and 'fresh' via the DAC 8.
With Malcolm Arnold's A Sussex Overture on Reference Recordings – which has extremely lifelike crashing percussion and rasping brass – the performance was taken in its stride, and was nothing short of enthralling.
We couldn't reliably discern any difference between the CD replay and the sound from the ripped disc, whether pushed into the USB input from a computer, streamed via Ethernet, or played from a memory stick, which speaks volumes about the thoroughness of the overall design. Only via its S/PDIF input did it sound less vibrant and dynamic – doubtless because we had a USB-to-S/PDIF converter and additional interconnect in the replay chain.
Verdict
This magnificent digital front-end component exhibits considered thinking and is evidently a work of passion and dedication to excellence. It is utterly fabulous!
Originally published in the 2013 Yearbook