Synthesis Action A100 Titan Integrated Amplifier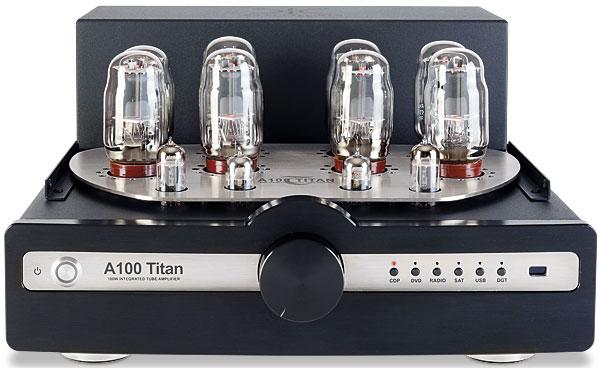 From the bottle-focused Italian marque comes an amplifier combining a quartet of power tubes, per side, plus onboard USB DAC, making it more integrated than many...
There's a perception that tube amplifiers are aimed at a specific segment of the hi-fi community, one that favours analogue sources over all others, whether reel-to-reel tape or vinyl. While tube-equipped outboard DACs are not uncommon, DAC-equipped tube amplifiers like the £7999 Synthesis A100 Titan, from the Italian manufacturer's Action series, most certainly are. The Bluetooth-equipped Western Electric Type 91E [HFN Feb '23] is another rare example, although whether either of these 'digitally inclusive' integrateds represents the beginning of a trend is hard to say.
Hosting a 'high-res' digital facility within the same case as a tube power amp, with its transformers and high voltage power supplies, poses its own challenges but this amplifier's ability to take digital audio over coaxial and USB-B most certainly gives it extra appeal.
A Family Affair
Synthesis, based about 30 miles south of Ancona on Italy's east coast, might be an unfamiliar brand to some, but it dates back over 30 years. Founder Luigi Lorenzon, whose father created the FASEL company in the 1960s, a specialist in output transformers, steered the family business into consumer hi-fi in 1992, establishing a brand – full name Synthesis Art In Music – that has grown to now sell a stable of tube-centric products.
Its three Action amplifiers are all similarly styled, with a full-width metal chassis fronted by a large central volume dial that breaks up a silver strip with model name and power button on one side, and status lights/buttons for inputs on the other. Atop this, a removable, vented cage conceals and protects the tube complement. Both cage and chassis are black, something of a surprise as Synthesis has polished wood fascia options, in various colours, for both its flagship Metropolis and entry-level Roma models.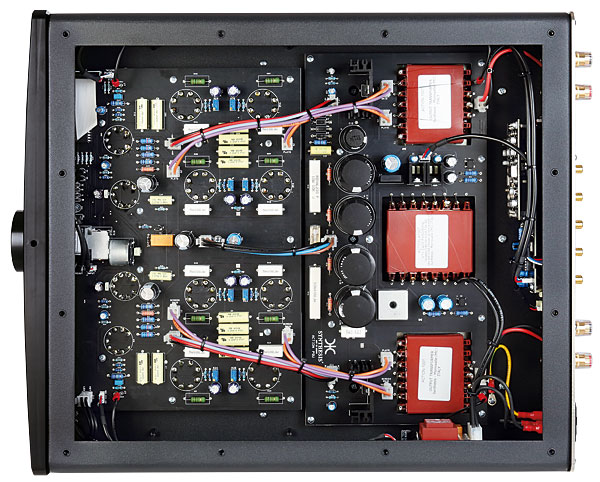 The A100 Titan is worthy of the name, measuring a sizeable 505mm deep, and tipping the scales at 40kg. Tipping might be the operative word, actually, as weight distribution is skewed by the large 'high-grade, iron-silicon' output transformers, custom-built for this model, mounted at the rear [visible in our pic below]. The feeling of a rock-solid build continues with the amp's machined aluminium feet, which contain a rubber insert to help minimise vibrations, while Synthesis says attention has also been paid to the separation of internal components, and chassis construction, to again minimise the impact of microphony – a very 'real thing' with tube amplifiers.
Regards power, the A100 Titan claims a beefy 100W/6ohm, albeit one-channel driven, which is not unreasonable for two pairs of KT66 tubes, in ultralinear guise, per side. Bigger Synthesis amps, including the NYC 200i [HFN Jun '22], use the larger, more recent KT120 variants of this classic power tube (we have the pro/guitar industries to thank for these bigger bottles). Electro-harmonix 12XA7 and 12BH7 triodes are used for the input and driver stages respectively. These have DC stabilised heater circuits in an effort to minimise hum noise, while all tubes are pre-selected via an automated measurement process to determine those 'matched for a perfect balance'.
Legacy Legends
On the rear are four line inputs, plus a (variable) pre-out, in addition to S/PDIF and USB ports. The analogue connections are all on unbalanced RCAs, Synthesis only supporting balanced sources on its Metropolis hardware and its Roma pre/power system. There are legends for each input, replicated on the front panel, which suggest the company is a little behind the curve when it comes to modern sources, as one is labelled 'DVD' – a format plenty of cinephiles have consigned to the dustbin.
The A100 Titan's coaxial connection will handle PCM files up to 192kHz/24-bit, but the USB input is limited to 44.1/48kHz/16-bit. This may put something of a dampener on any initial enthusiasm you might have about the idea of an all-singing, all-dancing DAC-equipped tube amp. And it's notable that some of Synthesis's more affordable – and more recent – integrated designs, such as the £2649 Roma 96DC+, are specified at a more up-to-date 384kHz/32-bit and DSD128 via their USB-B inputs. There's also a difference in the DAC technology – the A100 Titan uses a Wolfson WM8740 DAC, whereas the Roma hardware, which Synthesis tells us is where 'all-in-one' functionality is more likely to be expected, features a 32-bit AKM device.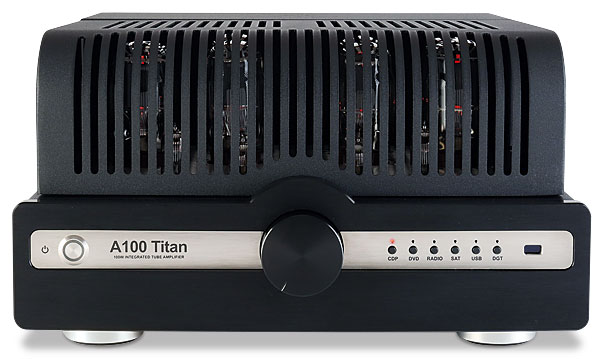 In terms of usability, this amplifier offers nothing to scare the horses, even with that DAC functionality. There are no filters to choose between, the USB input requires no driver download, and connections and controls are self-explanatory. The supplied aluminium remote feels as robust as the amp itself and works via an IR sensor on the right of the front panel. Perhaps the only aspect of setup and use worthy of consideration is the amplifier's need for good ventilation, and a user tolerant of its hefty power consumption!
Full Of Beans
HFN readers will be aware that not all Class D amplifiers sound sterile or harsh, and not all tube amplifiers are inherently warm and rich. However, Synthesis's A100 Titan will probably do nothing to assuage some of that notion. Its sound signature is one of glorious valve-y goodness, coupled to impressive speaker-driving power – like adding an extra espresso shot to a smooth café latte. The resulting performance is largescale and thrilling, but always somewhat 'easy' on the ear, meaning there's little chance of listening fatigue.