SVS Prime Pinnacle Loudspeaker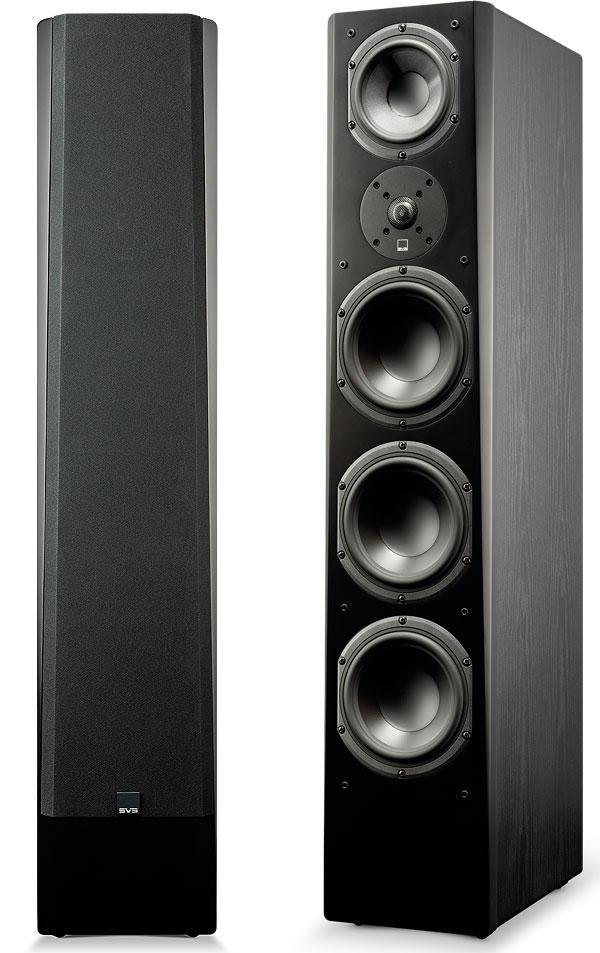 Better known for its high-value, high-performance subs, SVS is now turning its attention to audiophile speakers
If there was ever a speaker that seemed, on specification alone, to warrant the phrase 'bang for your buck', it's SVS's Prime Pinnacle. For less than £2000 a pair, this US audio brand is offering a three-way floorstander with bespoke midrange unit, an unusual-at-this-price trio of woofers, and the promise of a 'world-class performance'. Even accepting the latter as marketing hyperbole, it's impossible not to view the Prime Pinnacle as potentially superb value for money.
The name denotes this speaker's position at the top of SVS's Prime range, but it isn't the brand's flagship. That honour goes to the Tower model from its slightly costlier Ultra Series that kicks-off at £2200 per pair, depending on finish. That speaker is a curious-looking trapezoidal three-way floorstander with twin side-firing 200mm woofers.
The Prime Pinnacle, with its more conventional form factor and driver layout, seems designed to have greater domestic appeal, and carries a more affordable price tag to boot. Below it in the Prime Series is another floorstander, the Prime Tower, plus Bookshelf, Satellite, Centre and Elevation options, the latter two designed for home cinema system builders.
Beyond The Curve
Standing 104x35cm (hw), these are not super-sized, but still vaguely recall the monoliths from Stanley Kubrick's 2001: A Space Odyssey. Bucking current trends, there's not a curved edge in sight, and they're available only in either Black Ash (£1795) or Gloss Black (£1995) finishes. SVS, throughout its more than 20-year history, has remained uninterested in the more exotic designs of its rivals.

Although the Black Gloss livery is surely worth the price premium over the prosaic Black Ash, and a smidgeon of style comes from the tapered front baffle, these are hardly speakers that will make visitors to your listening room stop and stare. Grilles, which cover roughly three quarters of the face, are clip-in rather than magnetic, and indicate that this speaker has been built to hit a price point. Elastomer feet are fitted as standard, but can be swapped for supplied threaded spikes.
History In The Making
SVS says the Prime Pinnacle has benefited from a more extensive voicing programme than any other model in its history. This, explains Director of Product Management Smith Freeman, was necessitated by its deployment of a new midrange driver, and adoption of three woofers.
'During the development of the Prime Pinnacle', he says 'we explored numerous acoustic alignments, which included various system tunings and driver designs for both the bass and the midrange.'
These experiments, adds Freeman, included alternating the position of the mid unit below and above the tweeter. Eventually the latter placement was chosen. 'Key parts of this design were balancing out the tweeter height relative to typical listener position, as well as controlling diffraction from both the tweeter and midrange. The best performance objectively and subjectively won, and that's the design you have here.'
For the mid unit, SVS opted for a 135mm glass-fibre cone, a change from the other models in the Pinnacle range, which all use either 115mm or 90mm drivers hewn from polypropylene. This driver is a trickle-down design from the 165mm glass-fibre cones used in SVS's premium Ultra Tower speaker, suggesting Prime Pinnacle buyers are getting something a cut above the rest of the lineup.
With this mid unit mounted up top, next in line is the 25mm aluminium dome tweeter with FEA-optimised diffuser to deliver, says SVS, 'a wide dispersion and accurate on-axis and off-axis delivery'. Beneath this sits the triple stack of bass drivers, all 165mm in diameter and again made from polypropylene, a material chosen for its stiff-but-light properties. By opting for these relatively small low-frequency units as opposed to a pair of larger drivers, speaker width has been kept to a minimum, maintaining the fit-for-any-environment ethos of the Prime Series.