Sony TTS-8000 (Vintage)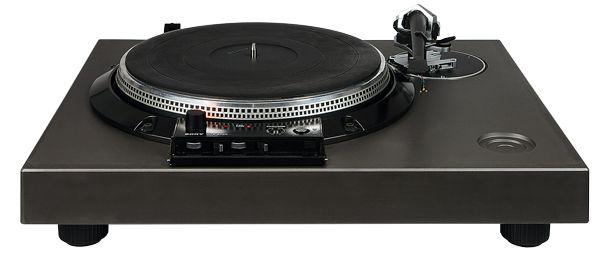 The Sony TTS-8000 direct-drive offers an authoritative and dynamic, yet fluid and musical, sound
Direct drive was viewed with suspicion here by many in the 1970s. Elsewhere, high-end direct-drive units from the Land of the Rising Sun were snapped up.
The TTS-8000 is now widely regarded as the second best turntable Sony ever made (first place goes to the company's PS-X9, aimed at studios). But the runner-up reviewed here did a sterling job in straddling both the domestic and professional markets.
Sony's TTS model designation indicates that it was a design originally supplied without a plinth. Interestingly, it chose not to give the '8000 a new designation once mounted. Prototype plinths made in wood were superseded by the company's Sony Bulk Moulding Compound: a mixture of fibreglass and polyester said to have excellent resonance absorption properties. The arm bases were also made from SBMC. They have an aluminium top and are most often to be found with SME cutouts.
The turntable itself was a technological masterpiece. Based around a brushless and slotless DC servo motor, it used the X-Tal (crystal) Lock system. The inner surface of the platter was coated with magnetic barium ferrite; as the platter rotated the barium was 'read' by a sensor and the signal compared to a reference to enable precise control over the turntable speed. On the TTS-8000 this could be defeated, enabling a ±4% pitch adjustment for 33.3 and 45rpm.
A small front flap hid the minor controls, although strangely this included the speed change switch. Outside could be found the power and start/stop buttons, plus 33.3, 45 and X-Tal lock indicator lamps along with the strobe illuminator.
The TTS-8000's platter is a 1.6kg diecast damped aluminium design with black strobe markings on a silver painted background. Sony's excellent OL-2K mat contained an internal layer of very thick oil to aid damping and to enhance a neutral sonic performance.
Musical insights
Fitted with an SME 309 arm and Ortofon Kontrapunkt B cartridge, the Sony impressed from the first bars of music. Some find a direct-drive turntable too matter-of-fact, even sterile, but this is not a criticism that can be levelled at the TTS-8000. While it's true that its presentation isn't rosy and cuddly, it offers musical insight by the bucket-load and brings a fine sense of poise and stability to everything it plays.
Kari Bremnes' vocals on 'A Lover In Berlin' [Norwegian Mood – Kirkelig Kulturverksted] were beautifully rendered and shimmered delightfully soundstage centre. The underpinning bass and percussion work was also clean and clear.
Something with a little more grunge to it can often unseat a turntable that majors on crispness and clarity. Yet 'Magic Man' from Heart's Dreamboat Annie [Arista] proved that the Sony was more than capable in this area. Ann Wilson's vocals soared while the backing electric guitars had just the right amount of edge to them.
A good direct-drive like the Sony offers a somewhat different take on low-end performance. Rather than adopt the piledriver approach that idler-drive designs do so well, the Sony digs deep, but with a much more fluid sense of rhythm when it comes to the upper bass. Plenty of detail, taut timing and a feeling of enthusiasm that draws you into the music is most definitely the order of the day here.
As a result, bass lines are fast, tight and blessed with a sense of pace that can leave you breathless. This was showcased perfectly by 'The More You Live…' from A Flock of Seagulls' The Story Of A Young Heart [Jive Records]. The track positively galloped along, percussion as sharp as a tack and Frank Maudsley's bass line as spry as could be wished for.
At the top end, the Sony continues to impart its signature sense of neutrality. Nothing is overblown and yet the deck offers a marvellous sense of insight and clarity. In soundstage terms, the Sony also scored highly.
Verdict
A superb unit, the Sony TTS-8000 direct-drive is now sought-after. It can still show a clean pair of heels to many modern designs and offers an authoritative and dynamic, yet fluid and musical, sound.
Originally published in the 2014 Yearbook