Sonneteer Morpheus Music Centre & Server (£2500/£2500)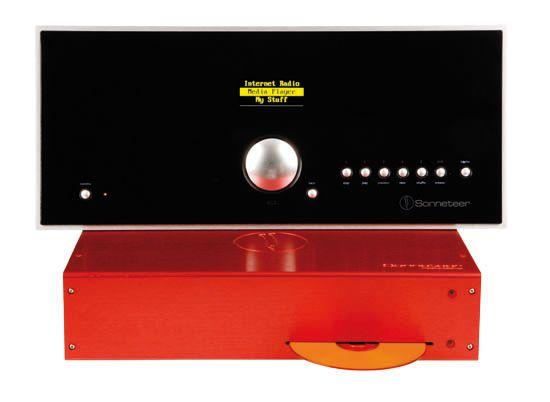 Known for its poetically-inspired amplifiers, Sonneteer chose instead to name its stylish network player after the god of dreams. Now there's a CD-ripping server to match.
For those of a certain age, the term 'music centre' still conjures up a cheapo record player/radio/cassette unit in a plastic wood-effect finish, sitting uncomfortably on a suburban sideboard. But Sonneteer's thoroughly modern Morpheus has very little in common with those old audio dinosaurs. This Music Centre is a wireless network player with amplification that works equally well in an expanded multi-room context.Escaping from the usual hi-fi box format, the Morpheus Music Centre is a panel with all connections on the back, wall-mountable using industry-standard fittings via its four threaded mounting holes. It also comes with two legs, which screw in either the upper or lower pair of holes to prop the unit at a low angle or a near-vertical attitude. Thus it can sit compactly on a narrow shelf or mantelpiece.
Set-up is as near to plug and play as possible. When powered up, the Morpheus starts and scans for wireless networks. You need to enter your security key the first time, but then you are ready to go. Or you can connect to a cable (wired) network.
Centred in the Perspex fascia is the small display, which can show three lines of text. While navigating menus, the main dial below can be turned to scroll and pressed to select. Once playing, it becomes the volume control. A 'Back' button to the right gives re-entry to the menu system.
Coming out of standby, the first menu offers Internet Radio or Media Player. Once you've found your way through the Reciva internet radio menu and the thousands of stations out there, and picked a few you'd like to keep listening to, you can save these as presets. There are five preset buttons with a sixth as a shift, to store ten stations.
When you select Media Player, these buttons become Stop, Play (really 'play/pause'), Previous, Next, Shuffle and Random. The nice touch is that these legends now light up below the keys, while the preset numbers above them go out.
Within the Media Player menu you can select the Morpheus Server or any other UPnP server available on the network [see boxout]. Select Local Media instead to access a connected USB memory stick or SD card. File formats supported are WAV, FLAC, AIFF, WMA, MP3, AAC, AU and RM. Finally, for analogue sources, there are three line inputs, plus a 3.5mm jack for MP3 players.
ANNUAL RECHARGE
With the Music Centre you get an eyecatching all-metal remote handset, which is slim but substantial. It's made from the same channel section extrusion that's used for the below-decks part of the Morpheus casework. In a moment of inspiration, Sonneteer hit on the idea of using ball bearings for the keys, a visual match for the main unit's round metal control dial and buttons.
Instead of user-replaceable cells, this remote runs on a lithium ion battery, which should be charged about once a year by connecting its mini USB input to the Music Centre's USB port using the cable provided. The LED torch bulb at the top end is useful, and a quick flash every so often also keeps the battery in good condition.
Regrettably, with its tight and regular button layout, this pretty remote didn't make it particularly easy to navigate the menus while peering at the small display from a distance. There's a choice of 12 anodised colours for the remote and metal parts of the music centre, and the same goes for the Morpheus Server.
Inside the neat engraved box of the Server are a pair of 1.5 terabyte drives, normally configured as a mirror pair to give 1.5TB capacity with automatic back-up. It's a headless computer running Windows Home Server, with an Asset UPnP server.
No installation or configuration is necessary. You just ignore all the connections except the ethernet port, plug into a wired router, wait a few moments while it makes the connection, and you are ready to rip and store CDs as WAV files. Ripping takes only around four minutes, after which the disc ejects.
Although sleeve art can't be displayed by the Morpheus Music Centre itself, it will be visible if you are streaming music on an Android or iPhone, iPod or pad device with the Morpheus system. This can be done using an application such as PlugPlayer.
To keep things quiet, Sonneteer has borrowed a trick from the auto industry and placed one server drive upside down over the other, so that the contra-rotation balances out vibration. In normal conditions you will not hear any noise, except a slight whirr from the CD drive when it's ripping.
Using the supplied Windows Home Server Connector software on a PC connected to the network, you can edit the Server set-up – eg, to provide everyday back-up for your own computer, or to use the whole 3TB storage of the two drives.
WITH OR WITHOUT AN AMP?
Listening started with the Music Centre connected directly to Dali Ikon 6 speakers. This combination sounded good enough at moderate listening levels, but it wouldn't go very loud and it was obvious that a beefier power amplifier was likely to produce better results.
Running the Morpheus as a preamplifier with a 100W-plus Classé stereo amplifier, the sound became bigger, more spacious, smoother in the treble and somehow calmer, making the music breathe better and generally making it feel more inviting.
To find out, I ripped a whole pile of CDs, and listened to them with both wired and wireless streaming, comparing with the sound of the CD direct through the analogue inputs. You can switch quickly from wireless to wired network, but it takes a lot longer to change over the other way because, understandably, the Morpheus won't connect to the wireless network without being re-booted.
One of the first albums I ripped on the Sonneteer server was Dylan's 1974 Blood On The Tracks [from the 2003 'Bob Dylan Revisited' SACD reissue, Columbia 512350 6], which sounded striking enough on the wireless connection as 'Tangled Up In Blue' first burst out of the speakers. Yet with the wired connection, the Morpheus gave a more lively musical result, instruments seeming more vibrant and with an impression of a more detail, while Dylan's vocals gained in immediacy and texture. Bass seemed to improve in clarity and texture, so that the bass guitar could really be felt as it underpinned the music, and you began to appreciate the precision and rapport of all the musicians.
PIGEON AND RAVEN
With Rebecca Pigeon and The Raven [Chesky SACD329], I found that the wireless network sound was softened and flattened out compared with the CD input. It was pleasant, well balanced, with a big and wide image, so that in the absence of a CD player to make the comparison, you could think it fine. However, connected via the wired LAN network, the music became more definite, subtly more tangible.
On the opening 'Kalerka' the singer's voice had more presence, and there was a better sense of her placement in space in front of the musicians, with the backing instruments heard behind and around here. The bass was now firmer and with more of a sense of grip and there was generally a better sense of rhythmic attack or pace.
Listening to Art Pepper Meets The Rhythm Section [Original Jazz Classics S7532] via the wireless network, the sound was pleasant, with an appealing open quality in the sound of Pepper's alto sax, and a clean and persuasively percussive sound to the piano. But there was a feeling of a softening overall; Philly Joe Jones' cymbals were just mushy.
Switching to the wired network connection, though, it was as if the music came to life. Now there was more intensity and urgency in Pepper's alto playing, while the rhythm section was just crisper and tighter. Jones's drums were much more vivid, his brilliant fills now leaping out like showers of sparks, the subtleties of his cymbal sound revealed. The bottom end was seemingly more extended, with Paul Chambers' bass sound much fuller, a much bigger sound.
With Adele's 21 [XLCD 520], and 'Rolling In The Deep', switching from wireless to a wired network once again brought a better rendition: Adele's voice was firmly placed with a visceral presence, the subtle studio echo was more clearly depicted. Background vocals became more intelligible, and the drum sounds had more life and realism. As the track marched to its climax, the forces of bass, drums and keyboards no longer sounded just 'heavy' but had real power, in a sound that now convincingly approached the impact of the original CD.
VERDICT
With the Morpheus Server as a fine silent partner, Sonneteer's Music Centre majors on visual appeal and all-in-one simplicity, even if that basic display is at odds with its luxury look. It sounds attractive too, but sadly comes at a much higher price than Naim's UnitiQute or Musical Fidelity's CLiC, both of which match it easily on features and ease of use while adding the promise of hi-res audio.

Originally published in the December 2011 issue