Nagra 300i (£15,950)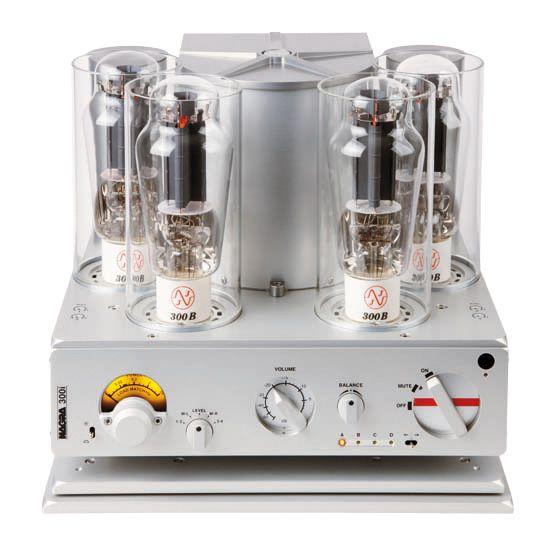 In celebrating the company's 60th anniversary Nagra's specialist hi-fi division pays homage to the 'king of tubes', the timeless 300B triode, in a new stereo amplifier
'A key difference between consumer electronic components manufactured for hi-fi systems and professional products made for sound engineers is the fact that you can drag pro gear across a room by its mains lead without it breaking,' quipped an industry veteran to me, way back when.
Witticisms like that, noted during formative years, tend to remain embedded in one's memory banks for life. As does the iconic Nagra marque. Think Nagra and you think Swiss precision engineering at its finest: electronics made for professionals. Who, among audio enthusiasts, isn't familiar with those rugged portable tape recorders of yore used by sound engineers for location recording? In today's digital age Nagra still makes recording gear. However, the company has diversified and grown immensely over the decades.
HIGH-END PRECISION
It was as recently as 1997 that Nagra first began applying its electronics and mechanical engineering expertise to top-end hi-fi for audiophiles. First came the PL-P vacuum tube preamplifier with phono stage, soon to be followed by amplifiers (both valve and solid-state), the 24-bit/192kHz Nagra DAC in 2003, and a range of CD spinners in 2006.
Developed by the same engineering and production teams responsible for its professional products, Nagra's high-end audio components positively reek of the marque's DNA. Build quality and design – that legendary Swiss attention to detail – is fabulous, the Nagra/Kudelski Group boasting in-house production facilities that artisan makers of boutique hi-fi can only dream about.
Our photographer went weak at the knees while shooting this new 300i integrated. It is beautifully made. And just like all Nagra products, its industrial design harks back to those classics of yesteryear that any audio enthusiast above a certain age recognises as 'Nagra' in an instant. No, we didn't try dragging it across the studio floor by its mains lead!
That Nagra would celebrate its 60th anniversary by producing an amplifier employing 300B direct heated triodes, a 'symbol of timelessness in audio', has hardly been the hi-fi arena's biggest kept secret. Prototypes were previewed to the trade at CES in January 2010. When first introduced in 1938 by Western Electric no other valve had as much output as the 300B – capable of delivering 6-8W in single-ended operation. Early hi-fi pioneers adopted it and to this day there remain valve aficionados who will listen to nothing else, citing its midrange 'to die for'. Production of the 300B ceased in the late 1980s, causing prices to soar as collectors scoured the world for increasingly hard-to-find stocks. Only in recent times, now that valves are once more readily available, have they reduced such that designing and building amps around the 300B is feasible once again.
The legend that is the 300B isn't purely about nostalgia, by the way. Many audiophile designers around the globe, including some designers of hi-tech solid-state gear, maintain that direct-heated triode tubes are the most linear amplification devices known to man. The 300B was the first of the breed, concomitantly it is often regarded the most 'purist' due to its simplicity.
Nagra's 300i employs a pair of Slovakian JJ Electronic 300Bs per channel in push-pull configuration to produce a 'useful' 20W per side. Quite unlike all-valve single-ended (lower-power) designs with, say, point-to-point wiring and zero feedback, the 300i employs sophisticated solid-state electronics for its driver stages, circuit surveillance and diagnostics, and microprocessor-controlled input selection and volume/balance circuitry.
SWITCHING TUBES
Suggests Nagra: '…directly-heated triodes have a tendency to amplify noise in the power supply, particularly around the filament heater frequency.' The company says its powering circuits have been most carefully implemented to provide clean, stabilised voltages, thereby giving reliable performance irrespective of the type of 300B used. Tube 'rollers' caring to experiment with alternative brands are positively encouraged to do so…
Unusually, the 300i's twin output transformers are toroidal rather than C-core types, bespoke designs handcrafted in-house. They're enclosed in a separate tower filled with silicon damping material. On unpacking the amplifier, the tower needs to be mounted on the amplifier's chassis using supplied bolts and steady hands. All tools required for assembly are supplied – as are gloves for careful handling of the precious valves. The 300i also comes with one of Nagra's elaborate VPS vibration isolation platforms, a £1425 item when purchased separately.
Nagra is also making a power amp version with balanced (XLR) and single-ended (RCA) inputs selected via a jumper on its rear panel. Called the 300p, it is priced at £12,950.
A MODERN SPIN
Homage to hi-fi's 'golden age' it may be, but there is nothing old-fashioned about the sound of Nagra's 300i. Defying stereotypical tubey cosiness, it sounds quick on its feet and is light of touch, the music emanating from beautifully silent backgrounds. You might be disappointed if hoping for a rich, warm and syrupy midrange with thick, cuddly bass and 'gentle' treble. This amplifier sounds fast and explicit – and wholly modern in its resolving capability.
Its crystalline, delicate delivery provides detail in spades, but with none of the hectoring you find with those brightly-lit amplifiers that seem determined to grab the attention. No, what the 300i does is far more subtle. It delivers fabulous three-dimensionality, has a sweet treble for sure, and with good quality source recordings the 'blackness' of the silences helps create holographic soundstages extending far beyond the edges of your monitors.
Several tracks from Nick Drake's charming Bryter Layter album [2000 CD remaster, Island 422 846 005-2] perfectly showcased the amplifier's seductive charms. 'Northern Sky' had Drake's delicate acoustic guitar appearing eerily lifelike and his melancholy voice sounding golden-honeyed. The individual elements within the soporific 'At The Chime Of A City Clock' – intimate vocal, resonant and full-bodied acoustic guitar, soulful saxophone with oodles of space around it, and the sweet, luscious string arrangement – were clearly separated and easy to listen into, yet depicted all of a piece thanks to the believable solidity of the image. The guitar (stage left) and flute (stage right) in Drake's instrumental 'Sunday', the album's closing track, had an uncannily lifelike presence, the instruments portrayed once again within a three-dimensional image filled with light and air.
The thought of owning a 300B-powered valve amp rated at 20W might not even register in the minds of most rock music fans but, rest assured, if the 300i is partnered with speakers that are not too hungry it will rock 'n' roll with the best of 'em. Elbow's 2008 stomper The Seldom Seen Kid [Fiction/Polydor 1764098] didn't win a Mercury Prize for audiophile sound quality, that's for sure. But it is what it is, the Nagra 300i helping to peel back the layers to draw one in to the music. Production and processing techniques were highlighted, warts 'n' all, in 'The Bones Of You' as the gating of percussion creates a pumping effect within the track. Sheer power never seemed an issue, even as I cranked up the volume in readiness for the head-banging riff of 'Grounds For Divorce'.
BEST SEAT IN THE HOUSE
Climbing out of my imaginary mosh pit I was transported to the best seats in the house when spinning up Keith Johnson's 2009 recording of the Kansas City Symphony under Michael Stern coupling Britten's The Young Person's Guide to the Orchestra and Sinfonia da requiem [SACD, Reference Recordings RR-120]. The breadth and depth of the image was immense, the sound grain-free, liquid, detailed, full of vibrant colours and richly textured. As the music ebbed and flowed dynamically on this audiophile recording I was very aware of the precise way in which the Nagra recreated perspective and scale. The grumbling of basses and cellos, delicate woodwinds, shimmering cymbals and air-moving timpani were captivating. During the Sinfonia the assault on the kettle drums approximately 7m into the piece sounded nothing short of magical as the pressure waves reverberated throughout the venue.
Less realistic – this grand orchestral score is 'sullied', in purist audio terms, by myriad overdubs and mixing – but nonetheless stirring was Hans Zimmer's heroic music from the movie Inception [CD, Warner/Reprise 9362-49650-3]. The contribution of the Smiths/Cribs guitarist Johnny Marr, who appears on several of the tracks, was clearly resolved thanks to the Nagra's wonderful clarity, adding intrigue to the rounds of Zimmer's heroic, tension-building melodies.
VERDICT
Nagra's fine build quality does not come cheaply. But as well as being beautiful to behold, the fabulously clear and open sound of the company's new 300i integrated amplifier fully vindicates the careful design work and superior manufacturing techniques employed to craft it. Partner it with sensitive loudspeakers and the 300i will provide a see-through window to the treasure in your music library.

Originally published in the December 2011 issue