Metrum Acoustics Hex (£2660)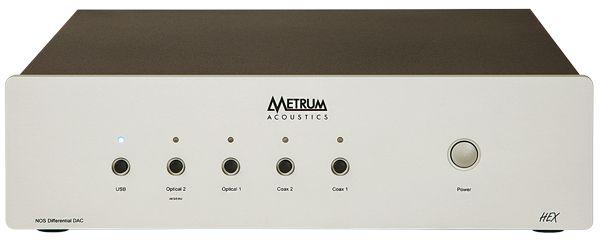 The HEX shines with 96kHz media and is stunning with 192kHz material. Great value and a 'must-hear' DAC for the high-res enthusiast.
Metrum Acoustics outboard DACs offer a specific appeal by implementing a no-frills approach to cosmetic design while cracking the DAC nut in a wholly bespoke fashion. The range, including this flagship HEX, eschews off-the shelf chipsets and are all non-oversampling [NOS] designs.
Designer Cees Ruijtenberg was convinced higher audio performance could be achieved by using cutting-edge industrial application chipsets rather than traditional audio components. After much experimentation and listening, a suitable high-speed data acquisition chipset was identified that the company suggests handles 24-bit audio and sampling rates well in excess of the hi-fi standards.
The HEX is so named as it uses no fewer than 16 of these chips, eight per channel, and runs in dual-differential balanced mode. The whole design is pure dual mono from the power supplies onwards, with each channel on its own individual board. Paralleling multiple DACs per channel is said to improve low-level information while reducing the noise floor, and this philosophy is an inherent part of the Metrum Range. Of course, using chips designed for industrial applications rather than audio has meant some additional work in interfacing silicon with audio features and circuits.
On the outside, Metrum's DACs have looked more functional than works of art. Thankfully the HEX does throw off much of the 'hand-assembled in dark shed' look, mixing a plain case with a heavy textured aluminium fascia.
As standard, £2499 gets you optical and electrical S/PDIF inputs and balanced XLR and unbalanced RCA outputs, with AES/EBU and asynchronous USB inputs both a £163 optional extra. The USB interface is an off-the shelf unit from M2Tech but is fed from the HEX's 15V toroidal PSU to ensure it is working at its very best.
Just sublime
Metrum recommends something like 20 days of run-in time and our sample became ever more fluid and musical as time went on. Indeed, the HEX is a sublimely musical DAC, mixing a smooth balance with an addictive energy that digs deep into the heart of the music. It comes across as a DAC with a purpose, delivering an engaging sound that thoroughly belies its price tag with source material from CD quality on up to full 24-bit/192kHz high-res.
With CD-format material via USB or S/PDIF it has a sophisticated and mature sound with superb intonation through the midband. This pushes key vocals nicely out into the front of the soundstage and its resolution throughout this part of the spectrum is up with the best.
The top end remains on the safe side of neutral, making for a warm and appealing sound. With CD material, top-end dynamics are a little restrained, however. Up the format resolution and the HEX gets even better. While the coaxial S/PDIF inputs will accept 192kHz material perhaps most users will still feed it high-res audio via USB.
With a 192kHz/24-bit remaster from HDtracks of The Doors' Waiting For The Sun the Metrum stepped up to the task with aplomb. The opening drum roll to 'Hello I Love You' was wonderfully edgy and dynamic, and Morrison's voice was crafted right there in the room.
The HEX tracked the pace of the music like a bloodhound, keeping everything rhythmically engaging and alive. Keyboard effects had superb positioning in the mix and the presentation gave no clue as to the age of the recording.
Verdict
The HEX is a novel DAC with an engaging sound that gets better with higher-res audio. It is a little shy of top-end sparkle with CDs but is forgiving of poor recordings. The HEX shines with 96kHz media and is stunning with 192kHz material. Great value and a 'must-hear' DAC for the high-res enthusiast.
Originally published in the 2013 Yearbook