Meridian/sooloos Control 15 Media Source 600 (£4750/£1750)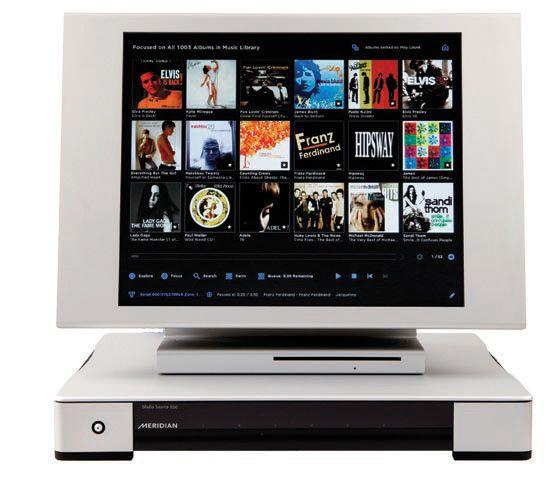 A fairly costly system with certain limitations but the bee's-knees intuitive touchscreen interface is a plus, and for some this will be the ideal home music distribution solution.
When Meridian announced, to some surprise, that it had bought Sooloos in late 2008, it was a demonstration that the UK's premier exponent of digital audio technology had recognised the burgeoning importance of computer audio, conceded that it was somewhat behind the game, and concluded that the best way to fast-track a move into this sphere was to buy what was, and remains, widely recognised as the best music server software available. What Meridian has done since is to bring its own expertise to bear on the hardware that the Sooloos system uses to deliver audio, potentially all around your home.
'System' it most certainly is, since Sooloos isn't a software package you can buy and install on your computer. It comes instead pre-loaded on a touchscreen controller: a computer – albeit a fanless, stylish one – dedicated entirely to Sooloos and the task of organising, accessing and playing your music collection.
ADD-ON COSTS
Although the Control 15 can function as a standalone unit, relatively few buyers will use it that way. To exploit the Sooloos system's multi-zone capability it needs to be hooked up to a network router (using CAT 5 cable – the Control 15 itself has no wireless capability), and a Media Source 600 network player or Media Core 200 (£2000) located wherever in the house you wish to play music. Meridian DSP speakers, other active or powered speakers, or an amplifier and passive speakers are needed in each zone to complete it.
No other network player will work with the system and, unlike some other network players, the Media Source 600 and Media Core 200 (which incorporates a hard drive) offer no means of attaching a signal source for local replay.
Sooloos is also a less than open system in respect of external storage. The Control 15 has no USB ports, so there's no facility for connecting a USB flash drive or external hard drive. You can import music files in a wide variety of formats at up to 24/96 resolution to the Control 15's 500GB hard disk [see box-out] but only via the network connection. And if you want to expand storage capability, you can't use just any network attached storage (NAS) device, although you can import from one and use it for backup – instead you have to buy either the 2TB Sooloos TwinStore (£1995) or the aforementioned Media Core 200 with its 500GB hard drive. The TwinStore is currently being phased-out for replacement by the Media Core 600 (price tba) whose twin 2TB drives are connected as a Raid 1 array to provide automatic backup, so effective capacity is 2TB not 4TB.
Although music playback can be controlled from computers on the network via a supplied browser app, and downloadable executables offer other functionality such as file import and export, the full Sooloos user experience can only be enjoyed via the Control 15 itself and its 17in, 1280x1024 pixel touchscreen. There's no space here for me to explain all the delights this brings – its reputation as the best music server solution is well deserved – but it is pertinent to mention the Sooloos system's reliance on rich metadata to deliver its full capability. This effectively means that you must connect the controller to a network with internet connection, since every time you rip a CD using the Control 15's slot-loading optical drive or import a file from another network-attached device, it will attempt to connect to the online Sooloos Metadata Service to identify the track(s) and add the appropriate metadata. If no internet connection is found then you are given the opportunity to enter the data by hand – but that's a tedious process if you are to provide all the information that the Sooloos software can act upon.
NO REMOTE?
Given that the Control 15, with its S/PDIF output and Meridian SpeakerLink output for direct connection to Meridian DSP speakers, is potentially a standalone component and marketed as such, it's odd that it lacks a remote control sensor and is not supplied with a simple handset. To realise remote control you have to connect an external IR sensor and use Meridian's MSR+ remote control or, assuming you have the Control 15 connected to a network with wireless capability, install a free Sooloos app on an iPod touch or iPad. The last option is fine if you already own the appropriate iDevice but represents more expense if you don't – and as there's no Android, Windows Phone, BlackBerry or webOS equivalent of the app, you are locked into supporting Apple's attempt at domination of this space.
So, the Control 15 offers a means of accessing your CD collection and hi-res files, and distributing them about your home, that leaves any mere optical disc player in the shade. No wonder numerous users and reviewers have attested to it changing their listening habits and empowering other family members to enjoy a resource they previously found intimidating and/or inconvenient. But just how good does the Meridian Sooloos sound? Is it up there with other high-class manifestations of computer audio?
DATA IS DATA
To answer that question I first – having uploaded some familiar files to its hard disk – used the Control 15 on its own, without the Media Source 600, feeding its S/PDIF output to the Bricasti M1 DAC I've enthused about in this issue [see p20]. Reprising items I'd played only a few days earlier via the M1, but on that occasion fed S/PDIF via a TC Electronic Digital Konnekt x32 FireWire interface from a Mac mini running Windows XP and J River Media Center v15, I listened initially to Eva Cassidy's 'Songbird' and 'Somewhere Over The Rainbow', and to Brian Ferneyhough's challenging Incipits.
Within minutes I was transported back a couple of decades and more, to when it began to be whispered that different CD transports gave different sounds when used with the same outboard DAC. It was 'impossible' because S/PDIF data is S/PDIF data – and yet this experience was soon widely duplicated with differing equipment and listeners. I mention it because something similar happened here – only this time there's an obvious reason in that the digital outputs of both the Control 15 and Media Source 600 are, on 44.1 and 48kHz source material, 2x upsampled using Meridian's minimum phase apodising filter. This is intended to dominate the impulse responses of both the anti-alias filtering used for recording and the reconstruction filter applied by the DAC – which is fine if you like the apodising filter's effect but positively annoying if you don't, since it can't be deselected.
I went back and forth many times between the Control 15 and Mac/TC feeding the Bricasti, always with the same conclusion that there was smearing of the lens with the Control 15 – a softening of dynamic contrasts and loss of transparency. (PM tried the Control 15 with the Devaliet amplifier, by the way, and had a similar reaction.)
SLIGHT SOFTENING
At 88.2 and 96kHz the S/PDIF output is unadulterated, and on hi-res source material the Control 15 did indeed sound better. In fact it was indistinguishable, feeding the Bricasti, from the Mac/TC source, thereby delivering the best sound quality I heard from the Sooloos hardware. It should have been the same story from the Media Source 600's digital output but I found its sound just a little softened compared to that from the Control 15 – a piece of music that demonstrated this small difference most vividly being Anton Webern's fiery 'Rasch' from Five Pieces for Violin and Piano (2L 24/96 download). A smidgen of the urgency of this unsettled and unsettling piece was dissipated.
As the Media Source 600's analogue outputs are also subject to upsampling and minimum phase apodising at 44.1 and 48kHz (albeit with 4x upsampling in this instance), I expected to have much the same reaction on CD-derived material as from the Control 15 feeding the Bricasti. So it proved: the Media Source 600's analogue outputs delivered a sound quality that was somewhat 'soft' and lacking in resolution. Harrison Birtwistle's Chronometer, for example [see also p21], wasn't unpicked sufficiently to deliver its full mesmeric effect.
For 88.2 and 96kHz sampling rates the Media Source 600's digital filters are linear phase and actually somewhat steeper than those of the Bricasti, so on hi-res material I anticipated better. In fact it still sounded slightly clouded – Christy Baron's stylish 'Got To Get You Into My Life' (HDtracks 24/96 download), for instance, wasn't quite as crisp and spacious as I expected, while the bouncy rhythm of Country Dreamer from Wings' Band On The Run (also an HDtracks 26/96 download) was a little less well developed. But bearing in mind that the DAC I was using for comparison costs four times as much, this rates as one of the best results I've yet heard from a network audio player.
VERDICT
No question, the Sooloos media server software and its touchscreen are the bee's knees – stylish, powerful, fast and intuitive. They alone will sell this solution to many, but there are downsides. Principally: it's costly and in some respects inflexible. Most importantly for the audiophile, sound quality is mildly disappointing on CD material. We feel that that apodising filter should be switchable.

Originally published in the June 2011 issue