Mbl 1511f (£7920)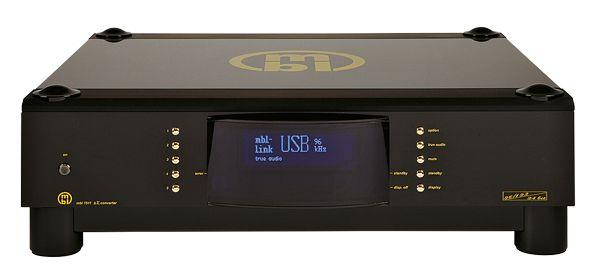 MBL's 1511F DAC's ability to paint spookily realistic images out of silence is fabulous, while its build quality shows carefully considered engineering both inside and out
Welcome to a world of truly luxurious audio. As it costs as much as many hi-fi enthusiasts' entire music systems, you'd be right to assume this MBL D-to-A converter aspires to being 'up there' with the best of them... Almost the size of our Mark Levinson amp, the 16kg 1511F is built around a substantial metal chassis with brushed aluminium panels and polished acrylic trim pieces. It sports five digital inputs and three line outputs (one balanced and two single-ended).
The 1511F's front panel houses a large VFD status panel flanked by two rows of control buttons that govern input selection, standby, mute, and allow setting of the display brightness in seven steps (including off). A button labelled True Audio disables the DAC's error correction circuits and it is recommended that it is engaged 'for maximum sound quality'.
The 1511F's inputs are all limited to accepting data up to 24-bit/96kHz, which might disappoint some. But, ultimately, one must conclude it is the sound quality performance of a DAC – and its true ability to offer substantially-better-than-CD resolution with hi-res recordings – that's paramount, not the numbers on its spec sheets.
On this topic, MBL's Jürgen Reis says: 'We did in fact intend to make the F version of the 1511 24/192-capable, but I was not happy with the sound because the bass lacked some punch and the midrange was missing some definition.'
Analogue appeal
Listening via balanced (XLR) connection to a Mark Levinson No.383 amplifier and Townshend monitors we thought the 1511F sounded richly textured and colourful. In some ways you could describe the sound character as an analogue lover's delight – inasmuch as it's pungent and meaty, with an invitingly warm midrange and super-smooth treble quality. There was certainly no sharp-edged 'digital hardness' to be heard here.
Even when playing barren, clinical-sounding recordings, the 1511F unquestionably seduced us with its charms; we judged the DAC to be beautifully balanced. The bass was bold and punchy while remaining always to appear 'calm', self-assured and even-handed.
Favourite rock and jazz/rock recordings (countless live Zappa albums, alongside 1970s-vintage live performances of Focus and Ian Carr's Nucleus, for example) were delivered with immediacy and delicacy in equal measure, together with outstanding dynamic qualities.
We can't concur wholly with Reis's description of the 1511F as sounding 'more analogue and relaxed' than his C31 player/DAC [HFN Sept '12], since we had found the C31 exceptionally smooth and luscious-sounding. The 1511F sounds less creamy and more tightly-focused, with better transparency thanks to its 'blacker blacks'. It certainly sounded more open with Patricia Barber's Companion live set from 1999 [Blue Note/Premonition]. The 1511F paints better holographic images, with a deeper and more lifelike sense of three-dimensionality.
We were knocked for six by the way it remained composed while tracking the dynamic contrasts throughout the song 'GiornoNotte' from Alice Pelle's Little Dream album [Suono Records]. The combination of the electric piano's energy and its aggressive zing seemed particularly authentic, while the muted trumpet displayed just the right amount of body and searing blast.
We were also carried away by Otis Redding's timeless 'Sittin' On The Dock Of The Bay' from his posthumous 1968 Dock Of The Bay album [24/96 download, HDtracks]. The way in which the 1511F presented images was glorious, instruments emanating from a black background and portrayed vividly in space, the layering of drum kit, electric guitar and accompanying instruments clearly depicted.
Verdict
MBL's 1511F DAC is indeed 'up there'. Its ability to paint spookily realistic images out of silence is fabulous, while its build quality shows carefully considered engineering both inside and out.
Originally published in the 2103 Yearbook