The latest issue: March 2019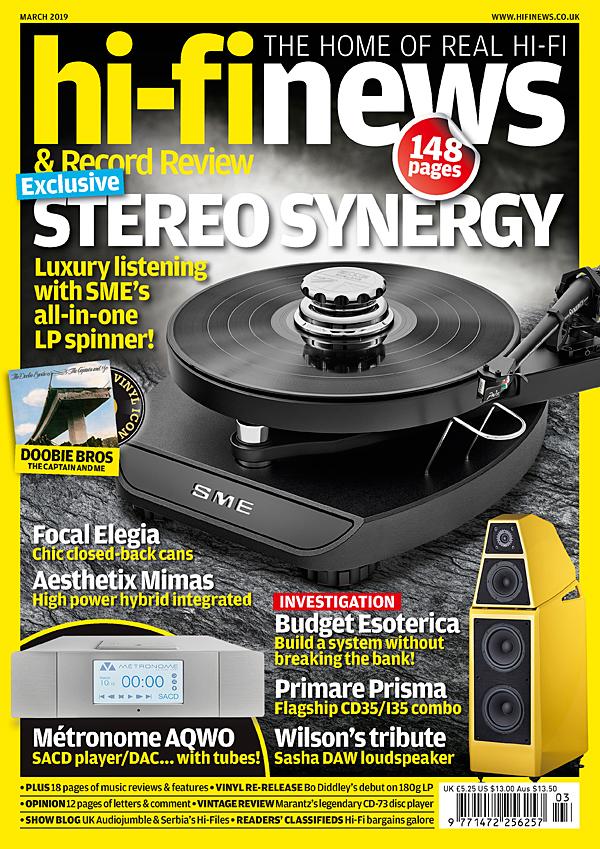 Welcome to the latest,
148-page March issue
of
Hi-Fi News & Record Review
– the heartiest read in hi-fi by far –
on sale 15th Febuary
. Our cover star this month is the long-awaited all-in-one vinyl-playing solution from SME – the stunning Synergy. This deck benefits from engineering trickled down from its costlier models and comes complete with an Ortofon MC Windfeld Ti pick-up, a variant on the Series IV tonearm and Nagra BPS phono stage, all wired with Crystal Cable. We also have the world 's first in-depth review of Wilson Audio's Sasha DAW floorstanders – a fitting tribute to the late David Wilson and proof that this iconic brand has a very bright future indeed. And with hybrid amplification from Aesthetix, the inaugural SACD player from Metronome and closed-back cans from Focal, our March issue has something to tempt every hi-fi aficionado.
Hi-Fi News – the oldest hi-fi magazine in the world is still delivering the best mix of international show reports, in-depth investigative features, world-class reviews, vintage celebrations and surely the most comprehensive range of music features available anywhere. And we're still the only magazine that tests high resolution music downloads.
Find your nearest Hi-Fi News stockest here
Music Reviews & Features
Classical Companion
For this month's guide to classical music Christopher Breunig recommends recordings of Mendelssohn's orchestral works
Vinyl Release
Steve Sutherland hears the 180g reissue of Bo Diddley's debut LP, the 1958 album that would set the beat for the fledging rock 'n' roll
Vinyl Icon
Featuring the infectious chart hit 'China Grove', The Doobie Brothers' The Captain And Me from 1973 caught the hearts of a generation. Johnny Black brings you the story...
Meet The Producers
From Beach Boys hits to reinventing The Byrds... so why has this US-born producer's legacy gone unsung? Steve Sutherland has the lowdown
Music Reviews
Our selection of audiophile LP and hi-res downloads reviewed by our specialists alongside the latest rock, jazz and classical albums
Definitive Product Reviews
SME Synergy
Built-in Nagra phono stage, Ortofon cartridge... is debut all-in-one deck the perfect plug 'n' play package?
Wilson Audio Sasha DAW
Trickle-down drivers, reworked enclosures... Replacement speakers for Sasha Series-2 reveal their magic
Mé​tronome AQWO
French company adds an SACD player with built-in DAC to its digital lineup, and it comes with a tube option too
Aesthetix Mimas
Hybrid designs are not uncommon, so why is this powerful, highly versatile tube/transistor amp such a triumph?
GoldenEar Triton Five
Superb speakers, sensible money... Slim floorstanders are a must-listen
Primare CD35/I35 'Prisma'
App-driven CD player/streaming DAC and amp with Prisma wireless tech
Aurorasound VIDA Prima
Can this quirky Japanese phono stage outpace more traditional price rivals?
Dali Callisto 6 C/Sound Hub
Wireless floorstanders and hub hope to supplant wired amps and speakers
Focal Elegia
Closed-back cans make a compelling case with a sound that's 'electrostatic'
Chord Signature XL
We drill to the core of the latest take on a classic Chord loudspeaker cable
Audiolab 6000A
Latest iteration of pedigree amp hits the pound-to-power sweet-spot
Vintage
Vintage Review
How do yesterday's classics shape up today? We test the Marantz CD-73 CD player, first released in 1983
From The Vault
We rewind to HFN Oct '83 where John Atkinson brings us his review of AR's reintroduced seminal turntable
News And Opinion
Welcome
A message from the editor
News
Nagra signs off HD series with a two-box DAC, NAD unveils compact streaming amp, Focal expands its Kanta collection, Q Acoustics adds standmount to Concept range
Show Blog
Ken Kessler sorts the icons from the bygones at the Audiojumble in Tonbridge while Milan M Milosevic reports from Serbia's Hi-Files Show
Investigation
There's no shortage of fine-sounding yet affordable kit out there, but where to start? Andrew Everard has a guide to the best budget buys
Opinion
Comment and analysis as Barry Fox, Barry Willis, Jim Lesurf, Steve Harris and Andrew Everard consider the hot audio topics of the day
Sound Off
Picking a pick-up for a Planar 3, tips on achieving quality radio at home, a look at dipole and cardioid subs, plus is it time to buy a Class D amp?
Off The Leash
Could the rumbling rumours of a cassette revival actually be turning into reality? A horrified Ken Kessler reckons he has the evidence...