The Latest Issue: February 2019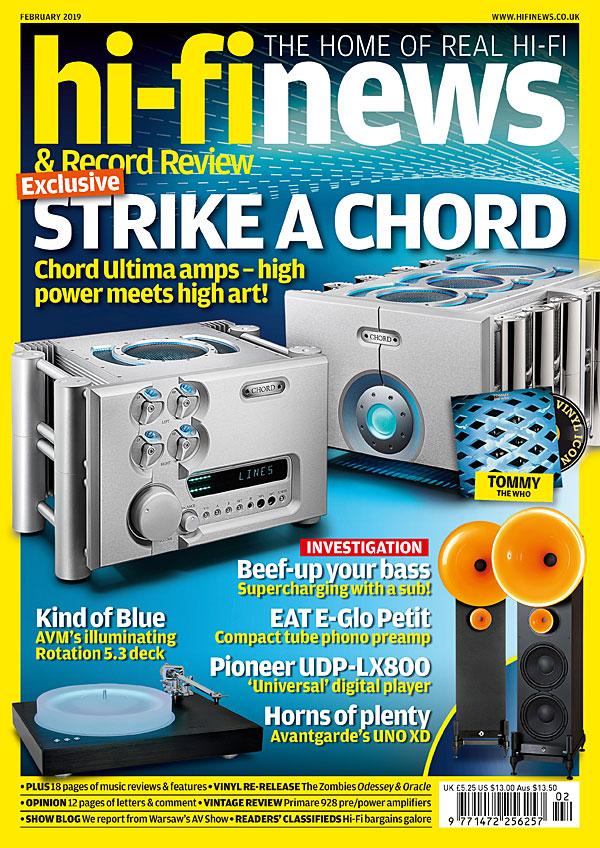 Welcome to the latest,
140-page February issue
of
Hi-Fi News & Record Review
– the heartiest read in hi-fi by far –
on sale 18th January
. Our cover stars this month are the huge Ultima amplifiers from Chord – a preamp and two monoblocks that represent the flagship of the brand's analogue technology. This issue also features the first full technical review of Avantgarde's UNO XD horn loudspeakers, first seen in the UK at our Hi-Fi Show Live in 2018. This, plus the first review of EAT's E-Petit phono preamp, the Due hybrid integrated from Unison Research and AVM's first turntable, the Rotation R 5.3.
Hi-Fi News – the oldest hi-fi magazine in the world is still delivering the best mix of international show reports, in-depth investigative features, world-class reviews, vintage celebrations and surely the most comprehensive range of music features available anywhere. And we're still the only magazine that tests high resolution music downloads.
Find your nearest Hi-Fi News stockest here
Music Reviews & Features
Classical Companion
Christopher Breunig explores both the history and recordings of the Berliner Philharmoniker Orchestra
Vinyl Release
Steve Sutherland hears the 180g reissue of Odessey & Oracle, The Zombies' baroque pop masterpiece he reckons ranks with Sgt Pepper
Vinyl Icon
Perhaps the most fabled rock opera of them all, Tommy was to see The Who grow into globe-trotting rock titans. Mike Barnes brings you the story of the LP's recording...
Meet The Producers
'Bash it out, we'll polish it up later' was said to be the mantra of this British-born '70s pub-rock veteran. Steve Sutherland digs deeper...
Music Reviews
Our selection of audiophile LP and hi-res downloads reviewed by our specialists alongside the latest rock, jazz and classical albums
Definitive Product Reviews
Chord Ultima Pre/Power
Astounding audio and aesthetics from this month's cover star – a no-compromise flagship pre/power amp to bring any speaker to heel
Avantgarde Acoustic UNO XD
Horn speakers without the hassle as we hear these 'entry level' models with built-in, user-configurable DSP
Pioneer UDP-LX800
This big-ticket universal Blu-ray player promises to be a hit with cineasts and audiophiles alike. We find out...
AVM Rotation R 5.3
It's not just a dual-pulley drive system and bespoke arm that sets this deck apart, but can it deliver on sound?
Revel Performa F228Be
Company ups the ante by bringing another pair of speakers boasting beryllium to its PerformaBe range
EAT E-Glo Petit
Both compact and keenly priced, company's latest phono preamp proves itself to be a bargain package
Shelter Model 9000
Made by an enthusiast for enthusiasts, this hand-built Japanese MC cartridge puts in a world-class performance
Unison Research Unico Due
Integrated amp/DAC fuses the best of valve and solid-state technology
Dekoni Blue
Will these eye-catching cans cut it when it comes to sheer sound?
iFi Audio xCAN
Portable headphone amp hopes to turbocharge your personal listening
Vintage
Vintage Review
How do yesterday's classics shape up today? We test a pre/power amplifier from 1986 – the Primare 928 System
From The Vault
It's Aug 1989 and Air Tight's ATC-1 and ATM-1 amps land on UK shores. Ken Kessler is lost for superlatives...
News And Opinion
Welcome
A message from the editor
News
Magico expands M-Series with a four-driver loudspeaker, VPI unveils anniversary direct-drive deck, Dual returns with ten turntables, plus 'reverse' hybrid amp from Copland
Show Blog
Outlandish-looking loudspeakers, Russian-made amps, tweaky digital disc spinners... Ken Kessler reports from Warsaw's Audio Video Show
Investigation
Achieving optimum sound quality from a subwoofer comes down to where you position it. Keith Howard makes sense of the science
Opinion
Comment and analysis as Barry Fox, Barry Willis, Jim Lesurf, Steve Harris and Andrew Everard consider the hot audio topics of the day
Sound Off
Choosing an aftermarket PSU, Roon in a Logitech/Chord set-up, advice on changing rectifier tubes, plus Boenicke speaker upgrade quandary
Off The Leash
This month Ken Kessler reflects upon the lure of the limited edition album release with advice on how not to come away empty-handed