JBL L100 Classic Loudspeaker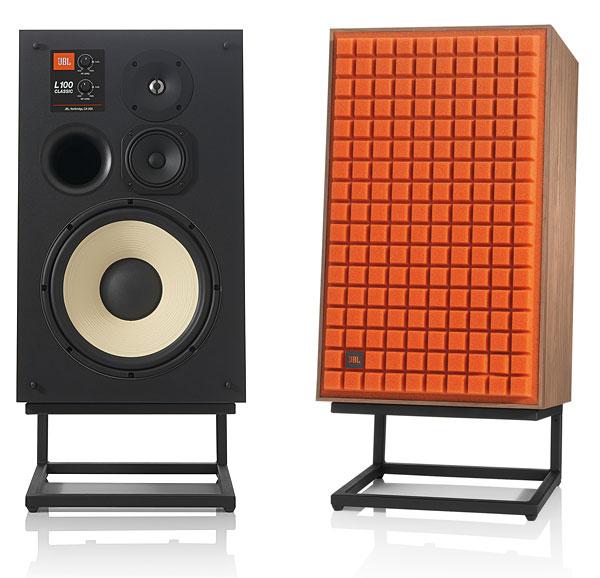 First launched in 1970, the L100 has been reimagined by JBL as the 'Classic' – a modern take on a speaker that's visually faithful to the original. Strap on your seat belts...
Behold this 'modern take on the all-time best-selling JBL L100 loudspeaker' with its classic retro styling. It's certainly something you'll not forget too soon. Yet why would JBL want to recreate such a whimsical thing, considering how far loudspeaker design has come in the past 50 years? The answer is surely more cultural than it is technological as, to a greater or lesser extent, our collective dissatisfaction with the modern world has encouraged us to revisit a generation or two back with rose-tinted spectacles firmly in place.
The fashion for 'retro' surfaced in the '90s as motorcycle brands from Honda to Harley-Davidson reimagined their '70s classics – with mixed results. Hi-fi quickly caught the bug, with a raft of valve amplifiers presaging the much-vaunted vinyl revival.
Now it's the turn of loudspeakers and JBL is riding the zeitgeist with several such designs, including the 4429 [HFN Feb '17], the 4312SE 70th Anniversary Studio Monitor and now this new £3999 L100 Classic. It's notable for offering the hi-fi equivalent of a racing stripe on a Ford Capri – the option of an orange coloured, sculpted foam Quadrex grille.
Flare Play
Prospective purchasers unwilling to channel their inner '70s self also have the choice of a more discreet electric blue or even garden-variety black. Yet even with the grille off, this loudspeaker still looks as period as a pair of crushed velvet flares – note its unusually wide front baffle, short and stubby angled stand and those midrange and treble level adjusters! Nevertheless, in its day the L100 was reckoned to be America's top-selling speaker. So that's quite some shadow this new product is standing in...
The wide front baffle dominates the look of this speaker, but stars of the show are the three drive units, especially the 300mm '1200FE' cast-frame woofer with its white pulp cone. This marries up to a 125mm 'JM125PC' midrange driver, again with a pulp cone and sporting a cast-frame chassis. Finally, the L100 Classic uses JBL's newly developed 25mm 'JT025Ti1' titanium dome tweeter, mated to a waveguide with an acoustic lens. Oh, and don't let appearances fool you – these drivers may look as if they're from another age, but they are all new designs.
On The Level
Midrange and treble level adjusters were almost universally fitted to high-end speakers from the '70s, but fashion went the other way and now they're rare. Of course, they are back on the L100 Classic, and may actually prove very handy for fine-tuning the loudspeaker to the listening room and/or system. There's also a large front baffle-mounted bass reflex port with a smoothly flared exit.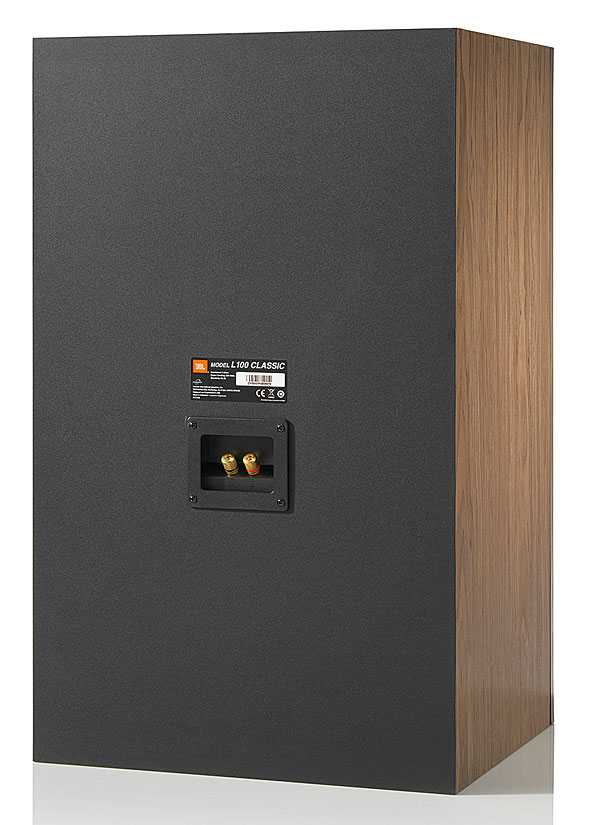 Around the back, there's a single pair of gold-plated binding posts. The quality of the real satin walnut wood veneer finish is good, but not as fancy as you'll encounter on more than a few 'modern' speakers at this price point. Indeed the overall build quality, while higher than I remember from the original, is nothing to write home about at £4000. As was common practice in the '70s, the grille is attached to the speaker's front baffle by mounting pegs, which are both flimsy and unsightly.
JBL offers an optional stand for the L100 Classic, which raises the speaker from the ground just enough to be effective, and angles it upwards ever so slightly. The company says the L100 Classics can be used vertically or horizontally and I went for the former. With the stand attached, the speaker proved relatively easy to position, working well about 60cm from a boundary wall, firing down the room. Indeed, it seemed to excite the room less than many other speakers I have tried.
Loud 'N' Proud
JBL's L100 Classic is as inconspicuous sonically as it is visually – which is to say, not at all. This loudspeaker gets things done it is own sweet way: it is loud and proud, a design that doesn't so much have character as ooze charisma. Tonally it's bright and vivid, really 'waking up' whatever recording you care to play. It also has a wonderfully animated rhythmic quality, so you can't stop tapping your feet. It's dynamic in its own way too but, perhaps contrary to what you might expect, far better at tracking subtle accents than the epic, earth-shattering crescendos of an orchestra at full tilt.
In practice, the L100 Classic turns out to offer an intriguing trip back to the 1970s, for here we have more than simply a 'sound' that many rock music fans aspired to, back in the day. This loudspeaker is intrinsically more than a little forward – its midband is hardly bashful and the treble is always well lit. So, this makes the trumpets on Herbie Hancock's 'Riot' [Speak Like A Child; Blue Note BST 84279] sound rather shiny, jumping out at the listener with an especially visceral feel that makes many a modern design sound subdued.