darTZeel NHB-18NS/NHB-468 Pre/Power Amplifier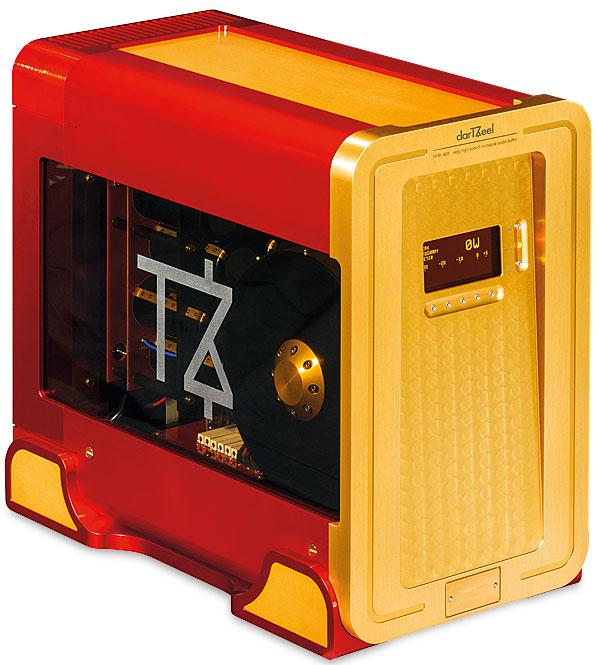 Look beyond the ostentatious livery and tongue-in-cheek labelling, and darTZeel's flagships are revealed as sensational amplifiers, with a sound as imperious as it is refined
If you want an amplifier with a face, not a fascia, start saving up for a darTZeel. Designer Hervé Delétraz has a sense of humour – turning an on/off button into a 'nose' with selector/volume knobs as bulbous eyes and grinning LEDs beneath. Then there's this Swiss manufacturer's mix of golden fascias and red casework, already iconic as the brand's house style over its two decade timeline.
While the new NHB-468 monoblocks are this month's cover stars, we still have a complete amplifier system under review, the ensemble selling for a smidge under £204,000 – the NHB-18NS preamplifier is priced from £41,500, and each NHB-468 monoblock at £81,000. The preamp here is the latest version of a model first tested with the company's stereo NHB-108 power amplifier HFN May '08], and has evolved to accommodate a range of plug-in cards.
Build Your Preamp
There are four standard configurations available, including the version here at £41,998 which comes complete with a MC phono input, one XLR balanced in, and four line-ins on both RCAs and darTZeel's proprietary Zeel inputs, which use 50ohm BNC connections. Slightly less expensive is the 'z4' variant, at £41,500, which loses the phono stage in favour of an extra XLR input, while moving up to the £45k 'XLR2' version gives you an MM/MC phono stage, three line inputs and, as the suffix suggests, two sets of XLRs. Finally, the £50k 'PH2' provides two MM/MC phono stages, three line-ins and one set of XLRs. Phew!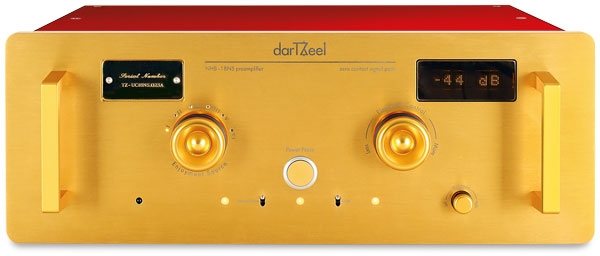 Common to all versions is the ability to trim the input gain using rear panel toggles and, on those models with a phono input, switchable eq tailoring including ultrasonic Neumann and subsonic roll-offs alongside a host of gain and loading options. But there's more to all these input modules than that: to remove switching and contacts in the signal path, each 'card' is essentially a preamp in its own right, dedicated to the source connected to it. Switching inputs simply selects the appropriate preamp, bypassing all the other input circuitry, under the control of microprocessors, which sleep when not in use.
In other words you're not buying a preamp, you're actually buying five, all governed by a common set of controls and powered via an offboard lithium-ion battery – replacing the original's lead acid. The LEDs on the front panel change colour to indicate whether the battery is simply powering the preamp chassis, or charging from the mains. A full charge should give you about eight hours' listening, and charging management is fully automated.
Output from the preamp is on RCAs, XLRs and 'darT' BNCs to accommodate darTZeel's proprietary cables: for reference, a 1.5m pair of these leads will set you back just under £1000. Oh, and if you happen to have invested in an earlier NHB-108, it can be updated to current specification by the factory in Switzerland for CHF12,000 (or about £9650) plus shipping.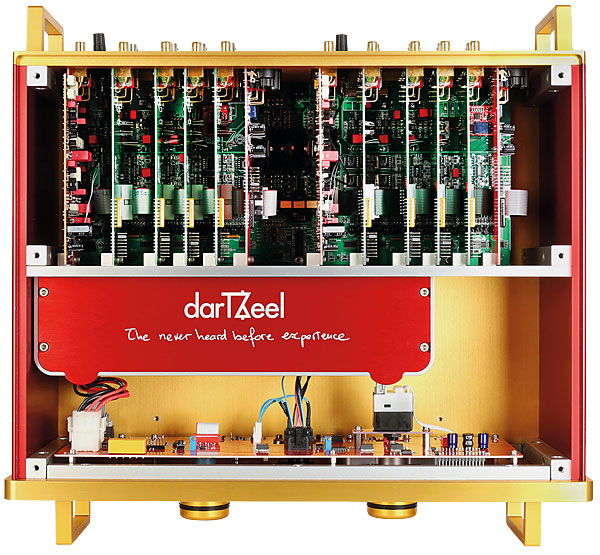 Tweak Its Nose...
I mentioned the controls, so it's worth noting that this self-proclaimed 'most advanced preamplifier ever designed' doesn't give you a power button, input selector and volume control. Instead, there is, respectively, a 'Power Nose', 'Enjoyment Source' selector and a 'Pleasure Control', the last of these offering 0.5dB steps but accelerating as you turn the control faster. Same goes for the volume up/down buttons on the heavy, red-anodised remote handset, which also has a mute button – tap the volume up/down and you get those 0.5dB steps, hold a button down and things start to happen fast. Just warning you…
The new NHB-468 monoblocks, meanwhile, are a development of the longstanding NHB-458 [HFN Jun '12], sharing the same massive red-and-gold chassis with its darTZeel-logo'd glass side panel. The latter reveals its inner workings, including a huge transformer and ten similarly generous power caps, all mounted on a floating suspension. A separate transformer supplies the control circuitry. Aside from some fettling of exterior finish, the major upgrade over the '458 model concerns what darTZeel calls its CP2C (Constant Power to Current) design, said to deliver appropriate power to the speakers at all times while countering the back-EMF from the drivers. There's a change to the number of output transistors and protection too.