Clearaudio Ovation/clarify (£4360 £4610 Depending On Finish)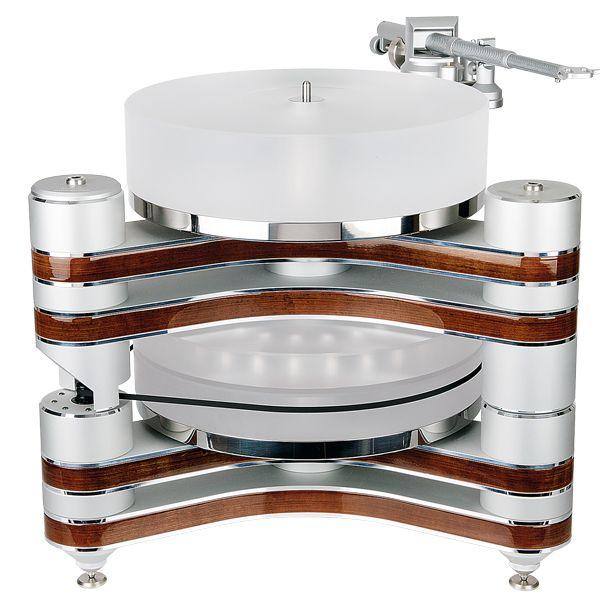 The Ovation's even-handed neutrality will undoubtedly win it many new friends. Together with the Clarify arm they form an impressive package
New to the Clearaudio line-up this year, this tidy-looking Ovation model sits at the top of its group of turntables that all feature a rectangular plinth.
Borrowing from the Innovation range, the Ovation nonetheless brings several new technologies of its own into play. The plinth is made of aluminium layers sandwiching a layer of Panzerholz ply. (This is is claimed to offer considerable sonic gains over such alternatives as acrylic and standard wood.)
The wood has to be machined to accept the motor, bearing and armboard, and the space left over is filled with a rubber damping material loaded with innumerable tiny stainless steel balls.
The deck is belt-driven using a DC motor that transfers drive to a metal sub-platter. This has a very fine pitch strobe ring on its underside while an infra-red sensor in the plinth monitors the rotation speed for perfect regulation. Start-up times are commendably swift and change between all three speeds (the Ovation offers 78rpm too) is equally prompt.
Machined from a slab of Polyoxymethylene the 26mm-thick platter increases to 38mm at the edges for an improved flywheel effect; it is also dynamically balanced. Finally, this whole construction spins on one of Clearaudio's Ceramic Magnetic Bearings that supports the pivot point on a magnetic field and rotates it around a polished shaft.
The Clarify tonearm has a carbon-fibre arm tube and beautifully machined aluminium headshell, with an unbroken run of Clearaudio Directwire cable from cartridge tags to phono plugs at the far end. But the arm's most notable feature is its magnetic bearing system in which the arm effectively 'levitates', anchored only by a wire tie to the bottom of the housing.
Spot-on precision
It was evident from the outset that Clearaudio's various technologies pay dividends in the fine sense of neutrality that the deck offers. And in terms of stereo imagery, the Ovation is very precise in the soundstage it generates, allowing the musicians plenty of space. Instrumentalists and vocalists could be placed with almost millimetric precision: when Dylan LeBlanc sang 'If Time Was For Wasting', from his Pauper's Field LP [Rough Trade], we felt that, if we'd shut our eyes and then reopened them, he'd be right in front of us! Equally, the finely-picked acoustic guitar on this track was delightfully vivid, with the pedal steel guitar tucked in expertly just behind it.
Nor did the pair lose their impressive imaging abilities when the music became more densely layered and rough-edged. 'Starry Blue Eyed Wonder' from The Icicle Works' 1998 album Blind [Beggar's Banquet] starts off softly, and then the level rises: the Ovation captured this perfectly, bringing a fine sense of order to the music. Equally, the much simpler 'One True Love', with Ian McNabb's vocals underpinned by Chris Layhe's bass guitar, was a delight to hear – the Ovation and Clarify really catching the essence of every single string strike, while also knitting them together convincingly.
This level of control could seem at times to work against noisier tracks. An attempt to find the Ovation's inner disco diva, for example, courtesy of The League Unlimited Orchestra's Love And Dancing [Virgin], fell rather flat. Again, all was crisp and superbly detailed but on an emotional level it felt a bit like watching a ballroom dancer trying to break-dance.
Verdict
The Ovation's even-handed neutrality will undoubtedly win it many new friends. The 'magnetic bearing' Clarify arm is clearly a good partner for the deck and together they form an impressive package.
Originally published in the 2013 yearbook