Canor Tp134 (£2495)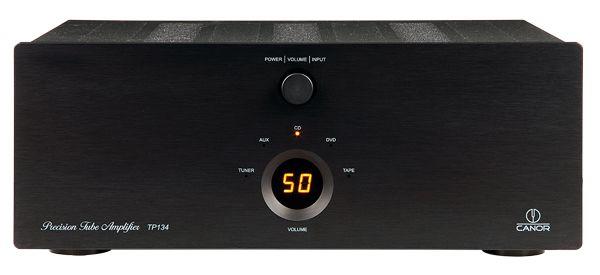 This valve integrated straddles the romanticised view of traditional 'valve-sound' with a more modern and crisp presentation
Longstanding Slovakian tube specialist Canor is based in Prešov, in a purpose-built factory where it builds everything in-house and has developed a proprietary valve-testing and burn-in methodology. Valves that don't measure up, we're told, are returned to their makers for use in guitar amps and the like.
The company traded for many years as Edgar until changing its brand name to Canor at the end of 2007. Its inaugural integrated tube amp, the TP101 was first shown in 1995 at an exhibition in Brno. It currently makes just two integrated amplifiers and two phono stages, a headphone amp and two CD players also with valve output stages.
Under its wrap-over bonnet the ultralinear push-pull TP134 uses a complement of four 12AT7s (ECC81s) and two pairs of EL34 output pentodes. The PCBs are purposely milled to remove unnecessary areas of the circuit board and minimise dielectric loss. This is a patented process which Canor says gives its circuit similar characteristics to one hard-wired with air dielectric cables.
Volume control is via a relay attenuator rather than a potentiometer (its development took over a year, says Canor), while the amplifier's control electronics are fed from an entirely separate power supply. Moreover, this logic circuitry is only active when it is being used. The remote control unit includes transport controls for any accompanying Canor CD player.
The TP134 is rated at 35W and claimed to operate as a Class A amplifier up to 10W/channel. In our lab tests we found it a very clean-performing tube amp, incurring minimal hum and offering an impressive 88dB A-wtd S/N ratio (re. 0dBW). The practical power output was higher than Canor suggested at a generous 45W into 8/4ohm loads (continuous) and 50W 8/4/2ohm (dynamic), all at less than one percent THD. The frequency response was also impressively flat and extended.
Admirable clarity
The TP134 we felt deserved high praise for its subjective performance too. Hearing the vivid portrayal of the Trondheim Soloists with performer Marianne Thorsen in Mozart's Violin Concerto, K218 [a 192kHz/24-bit download from Norway's 2L label]demonstrated the Canor's ability to portray clearly the natural acoustic of this high resolution recording and preserve its fine detail without any softness or veiling.
Indeed, its designers seem to have struck an ideal balance which renders plenty of verve and energy to the sound without incurring any harshness or grain by way of penalty. We listened to 'Lone Star' by The Carl Verheyen Band from the Rumor Mill DVD-Audio project released in 2005, a 96kHz/24-bit recording produced by Mark Waldrep [AIX Records].
This provides a stern test for any amplifier thanks to the dynamically lifelike sound of Verheyen (who's best known for his guitar duties in the band Supertramp) playing with Cliff Hugo and Bernie Dresel on bass and drums.
While it didn't sound quite as ballsy or 'grippy' as the Icon Audio Stereo 60 we used by way of reference [HFN Apr '14] when serving up the dynamic kick drum on this track, it remained commendably fulsome in the bass nonetheless – and sounded deliciously open and airy too.
'Carousel', from the Lifesigns CD [Esoteric Antenna], is an epic prog-rock extravaganza that's a challenge for any amplifier to reproduce, such is the density of its multi-layered instrumentation. But the TP134 nonetheless proved adept at separating out the myriad synthesizer and guitar tracks from the dense mix, and yielded an admirable hear-through clarity.
Verdict
This valve integrated straddles the romanticised view of traditional 'valve-sound' with a more modern, crisp presentation and serves up wide and open images of musicians performing in space. It provides remote control input switching as well as volume control; and it can certainly form the central hub of a high-end hi-fi system that won't break the bank.
Originally published in the 2014 Yearbook