Aurender N30SA Network Audio Library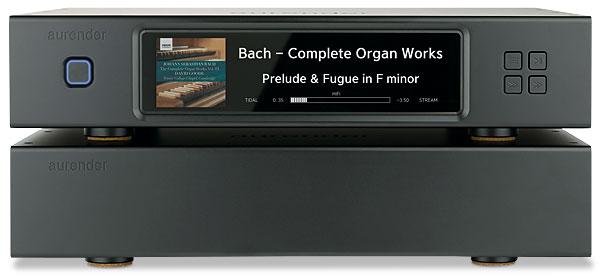 Aurender's flagship two-box network music library isn't the traditional PSU/player you might expect. Instead, the functionality is elegantly split between data in and data out
Look at any multi-box component and you can usually work out what's going on: CD transport and DAC, preamp and power amp(s), for example. But just as often those two boxes are an 'audio product' – phono preamp, headphone amp, DAC or even a digital audio transport – plus an outboard power supply. The rationale for these latter two-boxers is clear, for by isolating the electrically noisy parts of the system away from delicate audio signals, interference is minimised and signal purity maximised.
But take a look at the new Aurender N30SA, a £24,000 two-box network music library/player, and the division of duties between those beautifully machined alloy chassis is not so straightforward. This is not simply Aurender's flagship single-chassis W20SE [HFN Mar '23] player with its PSU stripped out into a separate enclosure.
Division Of Duties
Instead, all the noise-generating components – the linear power supplies, Intel CPU, storage drives, USB host ports, LAN port, and IPS LCD screen circuitry – are located in the 'power' box [the top chassis in our pictures] while the digital audio boards, FPGA and USB plus S/PDIF digital outputs are separated into the lower 'audio' enclosure for maximum physical and electrical isolation. Two umbilicals connect the boxes, one providing DC, the other the data. These are also kept as far apart as possible to minimise any crosstalk or stray EMI occurring between the PSU and data channels.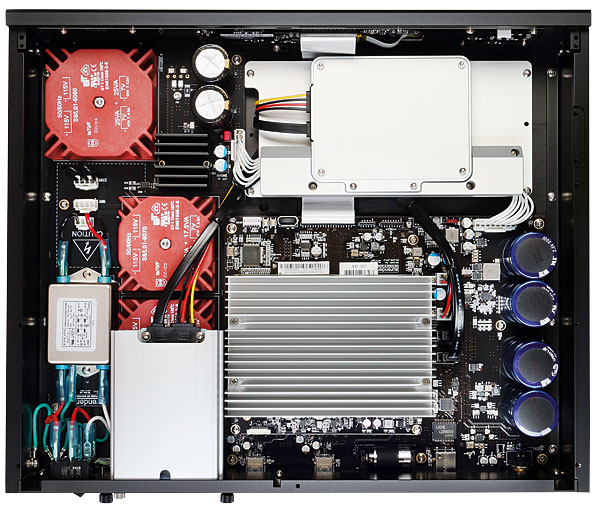 The plain-fronted lower chassis has an external clock input and array of digital outputs, from optical, coaxial and AES/EBU through to USB-A, to allow the complete player to be connected to an external DAC. The two USB ports on the [top] player chassis are for external drives only – data input, not output. So the N30SA really is not a 'two-box' W20SE, the latter with thicker alloy casework and an AMOLED display in place of the IPS LCD panel that graces the N30SA. Then again, the N30SA carries full-colour album artwork on its display while the W20SE does not.
There are other functional differences that exist too. While the N30SA has a single AES/EBU digital audio output, the W20SE has a pair capable of delivering DSD128 over DoP. Curiouser still, there's only a £1100 difference in price between the W20SE and costlier N30SA – marginal in the case of units at this level.
Otherwise, the N30SA and W20SE share a near-identical audio board, installed in its own aluminium chassis. There are numerous key components on here, not least the Xilinx Spartan 6 FPGA that handles Aurender's custom data signal conditioning. For example, DSD-to-LPCM conversion is included between 88.2kHz and 176.4kHz, gain is adjustable by 1-6dB and a low-pass filter includes 24kHz, 30kHz, 40kHz and 50kHz settings. Upsampling across 44.1kHz- and 48kHz-centric rates is included in the W20SE/N30SA's FPGA, but for its OCXO-governed S/PDIF and AES/EBU digital outputs only.
Chamber Music
Some may prefer the sound here over USB, although the latter always functions in 'bit perfect' mode, free of DSP, and is compatible with far higher 384kHz/32-bit and DSD512 data formats. The OCXO (Oven-Controlled Crystal Oscillator) employed for the S/PDIF outputs is superior to the TCXO clocks in more general use, because clock signal generators are typically highly sensitive to temperature changes. That's where the 'oven' comes in, for OCXOs are housed in their own temperature-controlled chamber.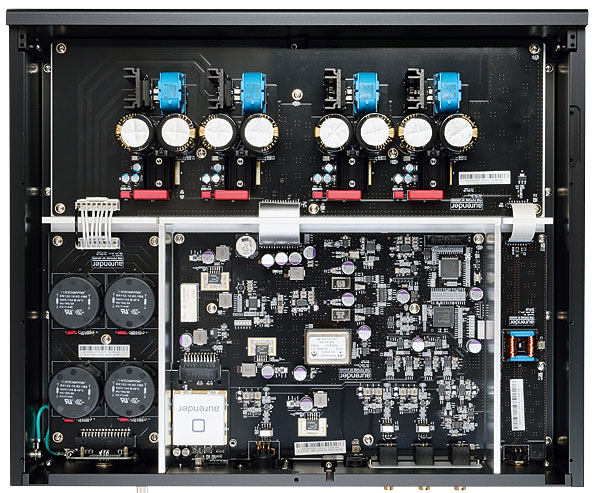 Skipping back up to the top 'power' chassis, as well as hosting the computer mainboard, it also houses the network card, and an 8TB SSD drive to store music, with the option of adding a further 8TB drive if desired. This doesn't require any disassembly – a tray in the rear panel, held in place by two thumbscrews, allows you to slide a 2.5in SSD into position.
Aurender recommends Samsung QVO or EVO series internal SSD drives up to 8TB, or Western Digital or Seagate HDDs of up to 5TB. The SSD will cost you about £400, which isn't much in the grand scheme of a £24,000 device, and will typically offer faster, quieter operation. And with 16TB on board, the N30SA will have storage to compete with the most substantial external NAS set-ups.In addition to the bulk storage there's also an onboard 480GB caching drive where music is temporarily stored before being summoned up for playback.