Audio Research Reference Dac (£14,000)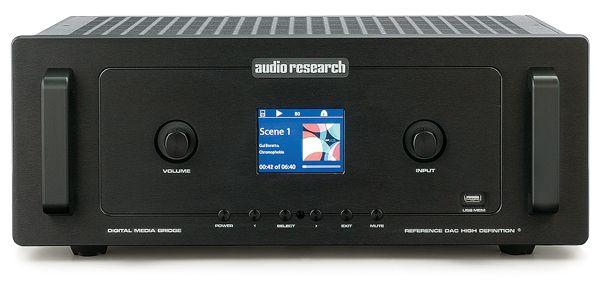 Recordings pushed into the DAC's USB and S/PDIF inputs sound enchanting, providing an open listening window for the high-end audiophile
Audio Research's first DAC to bear the 'Reference' name incorporates a network music player with access to internet radio stations, USB inputs for direct playback of files from memory sticks and HDDs, and a digital connection for iDevices. The Reference DAC is also an audiophile-grade vacuum tube preamplifier (albeit one with no analogue inputs).
Its type B USB rear input socket – into which one can simply push digital data from a connected computer – provides an asynchronous interface that's compatible with files up to 'full HD' 24-bit resolution and all sampling frequencies up to 192kHz. (Drivers are provided on a CD-ROM.) A type A USB fascia input socket allows hook-up of flash drive memory sticks, while a second type A socket on the rear panel provides connection for an iDevice.
Thanks to the dual clock, it offers the option of native rate upsampling together with soft or sharp digital filter selection – both operable from the remote controller. This can also switch absolute phase, control the preamp's volume and balance, and switch to mono.
As always with such devices that employ a small fascia-mounted screen, navigating your music collection is a bit clunky, nevertheless it will display colour thumbnails of album artwork. You can set the display to time out from 10s up to 1hr.
Euphonic nature
Installing the supplied driver was a breeze, our Mac mini running Windows 7 and JRiver Media Center v.17 successfully pushing a digital music collection into the Reference DAC within minutes.
It was immediately obvious that the sound was deliciously open and highly controlled, the DAC/preamp creating a seductively wide and deep soundstage. While the 'character' of the sound was neither recognisably valve nor solid-state, there was a delightfully euphonic nature to its presentation, the musicians depicted in a natural-feeling acoustic space.
Where many squeaky-clean-sounding audio components can be guilty of putting an obvious searchlight on detail, no such criticism can be laid on the Reference DAC. Combined with its spaciousness is a lyrical, free-flowing nature. The sound remains easy on the ear while permitting forensic inspection of details buried in recordings. In Propaganda's A Secret Wish [ZTT CID 126] the edgy harshness of 'Dr Mabuse' was handled with aplomb by this DAC, making the sibilant 'spit' palatable while allowing sound effects, such as the Lene Lovich-esque bird noises, to float high above the mix.
Using a USB-to-S/PDIF converter between computer and the Reference DAC we played a selection of hi-res tracks with complete success. There wasn't much in it, but going directly into the ARC's asynchronous USB input was slightly better. Dick Hyman's solo piano performance of 'Tain't So' from one of Reference Recording's 24-bit/176.4kHz 'HRx' releases, Thinking About Bix, was marginally better focused and explicit without the D-to-D converter in the replay chain. The attack and decay of the piano was more sharply defined, while the recording space appeared better resolved. Either way, the sound was deliciously vibrant.
An impression we'd gained of the Reference DAC, its apparent airiness and 'fresh' tonal palette, was reinforced when run directly into a VS115 power amp. This is how the Reference DAC should really be used: the all-ARC combo delivered grip and fluidity without a trace of artificial snap or hardness.
Verdict
A fabulous digital preamp with an 'analogue sound'. Recordings pushed into the DAC's USB and S/PDIF inputs will sound enchanting, providing an open listening window for the high-end audiophile.
Originally published in the 2013 Yearbook