John Bamford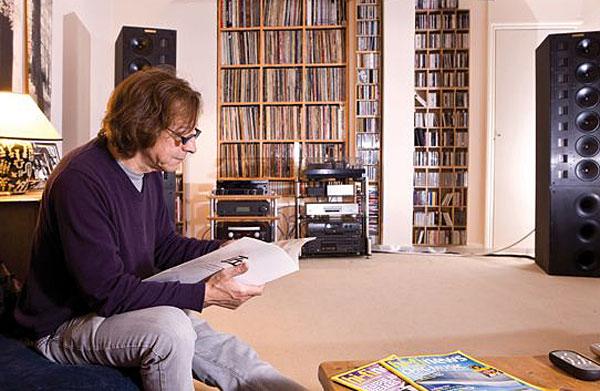 A lifelong enthusiast, John Bamford was already a respected audio journalist when, in 1991, he became the industry's best known poacher-turned-gamekeeper by joining Pioneer. Ten years ago he happily turned poacher again, writing exclusively for
Hi-Fi News
, until he was diagnosed with cancer in 2015. John passed away in Sept 2018, but we will always remember him as the passionate enthusiast and engaging writer celebrated on this page. RIP, our good friend and colleague.
'I think I was about 14,' says John Bamford, 'when I discovered that there was music beyond Alan Freeman's Pick Of The Pops and BBC 1's Thursday night Top Of The Pops. It was the Proms, actually. It was a Richard Baker-type announcer – on 625-lines, BBC 2! – who said, "And now we've got something different at the Proms, an experimental jazz-rock group called Soft Machine." I thought, what is this! I loved it! And you know, I'm still listening to that music today.
'It was a great time to be a teenager, if you were into music. Must have been round about my 15th birthday when I made the pilgrimage to see Pink Floyd on the Atom Heart Mother tour.
'I begged my parents to let me go on the bus. I lived in farming country, and you had to take the bus all across the Lancashire moors, stopping at all the villages, and it took about two hours before you got to the metropolis of Manchester.
'Then I remember going to see Van der Graaf Generator, and Genesis, and Lindisfarne, on what the rock history books now refer to as "the six-bob tour". Our currency had only just gone decimal, and we were still talking in old money. The tickets were 30p. The bus fare cost me as much as the admission. But I was there, mate, with my RAF greatcoat! Those were the days.
'If boys at school had older brothers and sisters with records, I was borrowing those, and playing them on my dad's Hacker Gondolier GP42 record player, sticking a ceramic microphone in front of the Hacker's elliptical speaker, and recording onto my Fidelity Braemar four-track tape recorder.'
CASSETTES 'N' CABS
'But I did get summer holiday jobs working at BBC Radio Blackburn. I worked for a lovely bloke there, who taught me how to work proper tape recorders, how to edit tapes with a razor blade, splicing up stories for the local news and so on. So I was fantasising about owning proper equipment, a Ferrograph or something. Chance would be a fine thing! But when I was 16 or 17, I did get one of the original little Philips cassette recorders. I said goodbye to the Fidelity, because now I could record onto cassettes.
'They said "Home taping is killing music." Come on! We were the fanatics who were spending every penny we could afford on music. Eventually the Hacker record player came to me, because my dad bought a Sony music centre. And that Hacker was my student system, when I left home and came down to the big smoke to study at the Central School of Art and Design.
'And I just spent all my money on records. I was a music fanatic. Like so many teenagers, a frustrated musician I suppose, I'd love to have been a rock guitarist.
'I wasn't a bad guitarist and I'd played lead in the sixth-form band, but I made a terrible mistake when I was about 21. I sold my guitar to help buy my first car, and I didn't own a guitar again for years. I'd studied theatre design. But to pay the rent on the flat I was living in, I ended up for about 18 months working in the office of a mini-cab company. On the night shift, I was reading hi-fi magazines from cover to cover.
'I guess I was about 23, in 1980, when my girlfriend at the time, who is now my wife, saw a little classified ad in The Guardian, "Hi-fi writer wanted." She said "Go on John, you know about hi-fi, you should apply for that!" And I got an interview.
'By now I was a consumer. Working 12-hour shifts at the mini-cab office, I'd been making quite good money. I got a NAD 3030 amp, which I think appeared before the 3020, and had VU meters on the front. I bought this on Tottenham Court Road, along with a NAD turntable. This was better than my Hacker Gondolier, but wasn't great.
'So I needed something really good. I went to Graham's Hi-Fi, where I heard a Linn Sondek with a Rega arm and an Ortofon VMS20E cartridge. And I said to myself, I was coming here to buy a Rega deck, but I've got to have the Sondek. It was playing through a pair of Mission 770s. And I thought, I wish I could afford those too!
'I think I paid £307 for the Linn, and £48 for the Rega arm, which was the Acos Lustre in those days. I also bought a pair of AR 17 speakers, which Grahams used to turbo-charge. I don't know what they did to them, possibly just tightened down the drivers and changed capacitors.
'They were all right, but I don't think I kept them very long. I remember getting a pair of Castle speakers which were lovely, rosewood cabinets and a mellow tone. They sounded much nicer with the NAD amp than the AR 17s, which could be a bit brittle.'
THE WRITE MOVE
And John got the magazine job, as staff writer on Hi-Fi Answers. He took over from Tony Horkins, who had just left to become editor of Beat Instrumental, and subsequently International Musician. It was Tony who had wittily turned that old BPI anti-piracy slogan on its head: "Home taping is skill in music". The editor of Hi-Fi Answers was none other than Keith Howard.
'When I joined Hi-Fi Answers,' says John, 'I was like a kid in a candy store. I never wanted to be a journalist. I was interested in hi-fi, it was my hobby. And I was writing about my hobby.
'I sold my Linn and bought another one, which was very swish in a rosewood plinth. But I have to admit that it was never as good as the old afrormosia one.
'By this time I was becoming a bit of a bass freak. I always wanted to hear what the bass guitar was doing, to be able to differentiate between the bass guitar and the kick drum.
'Then I heard the first Rock turntable, demonstrated by Max Townshend and Professor Jack Dinsdale. And the first time I heard the front-end damping, the way it tightened and controlled the bass, I thought, "That's the way to play a gramophone record!"
'So I bought the little utilitarian black Rock, that was £298, about £8 cheaper than the Linn. Then when Townshend came out with the Rock Reference turntable, I got that, and now, 20-odd years later, it's still going round at 33.3 and 45, and all I've ever done is change the belt.'
A CHOICE TO BE MADE
John spent seven happy years at Hi-Fi Answers. But finally, in 1988, he was headhunted for the editorship of Hi-Fi Choice, then a small-format bi-monthly compendium of reviews, but about to relaunch as a glossy monthly.
'It was quite painful waving goodbye to Keith, because he really had been my mentor. You've got to remember that CD was coming. Digital audio! And none of us understood how any of that worked. Except Keith. Very often, after work Keith would give evening classes explaining how CD worked. And I'd go along as his roadie. What I know about hi-fi, I learned from Keith. He'd explain how you look at the mass of the tonearm and the compliance of the cartridge and work out the resonance. I learnt all that, because I had a wonderful boss: Keith Howard at Hi-Fi Answers in the 1980s.
'Anyway, I went to Hi-Fi Choice. And the new monthly magazine was a success. It was all colour, which was something in those days. "But I had no aspirations to being a publisher. My passion was hi-fi. It was just pure happenstance that one day, the PR guy from Pioneer who was visiting the magazine mentioned that he was moving on.
'The next time I was talking to Pioneer, I said "Oh, I hear so-and'so's leaving, what are you going to do without him?" And they said "Do you want a job? You're a journalist, you can write press releases, you understand how the stuff works, we need somebody like you!"
'By this time, of course, I was married, had a child. This meant a proper job, with a company car. And I thought, instead of just writing about hi-fi, criticising and saying "why did they make it like that?" it would be a real buzz to be on the inside!
'So, in 1991, I ended up getting a job with Pioneer. I slightly regret that I didn't see my kids grow up, because for years I spent half my life in a cigar tube at 35,000ft going back and forth to Tokyo. Of course my house had become a bit like a hi-fi shop, with all those years of working on magazines. Nothing changed, insofar as when I was working for Pioneer, the Japanese engineers used to send me over prototypes. It was my job to criticise those and send them back.
'Again, I was very lucky. Pioneer was a very interesting place to be during the 1990s. Because of all the giant Japanese corporations, it was one of the smallest. And there were engineers there who were very, very serious about recording and playback of high fidelity.
'Here was a Japanese company that was making mass-market electronics, and making CD players, which in those days none of us liked because we all thought CD wasn't good enough. And then, bloody hell, the engineers at Pioneer were telling us the same thing!
'They were saying that we needed more bits and higher sampling rates. And later, putting its money where its mouth was, Pioneer developed HS-DAT, the high-speed DAT, which ran at 96kHz sampling instead of 48kHz.'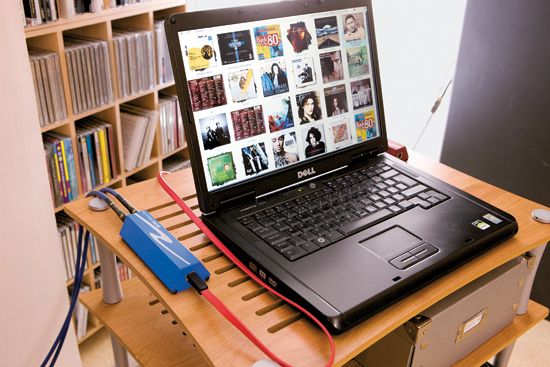 TO HUNTINGDON...
'I suppose the reason that I eventually left Pioneer, about eight years ago now, was that their main focus became TV sets, and I had no interest in those. I found myself surrounded by people who were concerned about how they were going to sell the next 17 container-loads of plasma televisions.
'But of course I was now the evangelist for having recorded sound that was better than CD, and for years I'd thought that DVD was going to change the world we live in. Well, I suppose it did, inasmuch as it replaced VHS in no time at all, but the music industry really screwed up DVD-Audio. And who among us could have predicted what Steve Jobs was going to do, and the success if iTunes?
'Bob Stuart of Meridian had been teasing me and saying "Come and work for me!" And so I did, for about three years, but it almost killed me. It's not very convenient living in London and working in Huntingdon. I trashed a car in three short years commuting up and down the A1. And yet more hours at 35,000ft. I was never at home to play my hi-fi!
'So, in 2008, I left. Now, I count myself as very, very privileged, as I spend my time working at home, listening to my beloved record and CD collection, and increasingly my so-called digital music collection on my computer.'
And for John, it's the music collection that's important. He has never amassed a big collection of equipment, and his main reference components have remained unchanged for years.
'Going back to when I bought the Rock turntable, I always liked the Glastonbury loudspeakers that Townshend made, with the Jordan drivers married to a ribbon tweeter. And I would ask Max Townshend when he was going to make a bigger one, because I had quite a big room now. For a laugh, he designed one, and that's what I've got. And I've been running them for 20 years now!'
THINKING BIG
'Why do I have these monsters? Well, I always feel sorry for hi-fi enthusiasts living in small apartments, especially in London. Because they can't do really big sound. You can make a nice sound, but you can't even get close to re-creating the sound of a grand piano actually playing in your living room. Let alone the sound of symphony orchestra at full tilt or Frank Zappa live at the Hammersmith Odeon in the 1970s!
'To do that, you've got to move an awful lot of air, and you need a big room, and neighbours are a problem. But again, I'm lucky. I don't live in a big house, and I live in London, but the house that I live in used to be a shop. It's a shop that's been converted into a townhouse and I've got this basement, this concrete bunker. And I can make a lot of noise at four o-clock in the morning without disturbing a soul.
'The walls aren't parallel, because I'm in a terrace that was built like a trapezium, so there isn't a right-angle anywhere. Which is wonderful for sound. And it's a nice big room, I'm sitting 20ft back from the speakers. And if I turn the lights down, put a log on the fire, and turn it up, I can almost suspend disbelief.
'Having been something of a spoilt brat, if you like, and having had access over 30 years to cost-no-object gear, I'm always looking for the sound that really puts you there.
'Sometimes I chuckle, when I read reviews in other magazines, and they're making value judgements using 1980s pop records that have been manufactured in a studio. I think, hang on a minute, that was laid down track by track in a recording studio. A mixing engineer has then just painted a picture with that sound at the mixing desk.
'So, you're saying that this CD player is better than that one, this phono stage is better than that one? But have you got any idea of what this recording is supposed to sound like? It's completely manufactured, the musical event never happened, so the sound that you're looking for is a sound that's in your head!
'And that doesn't determine good hi-fi, because in my book good hi-fi can re-create the sound of real instruments and real musicians performing in a room.
'So when I'm trying to make value judgements, I'm always using natural, simple recordings of real musicians performing in a real space. Because if you can get it right, it can send shivers down your spine. It really is like real musicians performing a private concert at the end of my room.'
SPEAKERS FIRST
'When we were kids, the older generation used to say that the most important part of the system was the loudspeaker. Through the 1980s and 1990s, that got turned on its head, so much so that even today, everybody focuses on the source. But I think that the old boys were correct all along. I think that the most important part of a hi-fi system today is the loudspeaker.
'If you're playing gramophone records, your source is very critical, because a fine gramophone is by necessity, a very, very expensive piece of precision engineering. But I can astonish people playing sound off an iPod, and you can get a cracking CD player for under £1000. So, if I had £10,000 to spend on a hi-fi system, I think I'd spend £8500 on the speakers!
'It is another irony of hi-fi that the bigger a loudspeaker, generally, the more efficient it is, and you don't need an awful lot of power.
'There's a joke among my friends that I only like loudspeakers that are bigger than I am. And there's an element of truth in that, because I could never be satisfied with LS3/5As. I want something where musicians who are six-feet tall actually sound as though they're six-feet tall.
'Of course, I can appreciate a floorstanding speaker that's only a metre high. I've been quite astonished sometimes, when I've listened to the Monitor Audio PL300 for example, with its gorgeous ribbon tweeter, and I think, "this is really bloody good."
'But it doesn't do what a seven-foot tall loudspeaker does. And so, if it's taller than me, I think, oh, that's got half a chance of creating real sound!'
THE LISTENING ROOM
John's room is unusual, and not just because it's big. What once were two small basement rooms were opened out to create this dream listening den, allowing music to be enjoyed at realistic SPLs without disturbing neighbours. The old wood floor was replaced with concrete and the walls were tanked, and John had the foresight to have a dedicated ring main installed. Best of all, perhaps, none of the walls are exactly parallel. Note our diagram is not to scale, the room being longer than it is wide.